Sign up for the Family Tree Newsletter Plus, you'll receive our 10 Essential Genealogy Research Forms PDF as a special thank you!
Get Your Free Genealogy Forms
"*" indicates required fields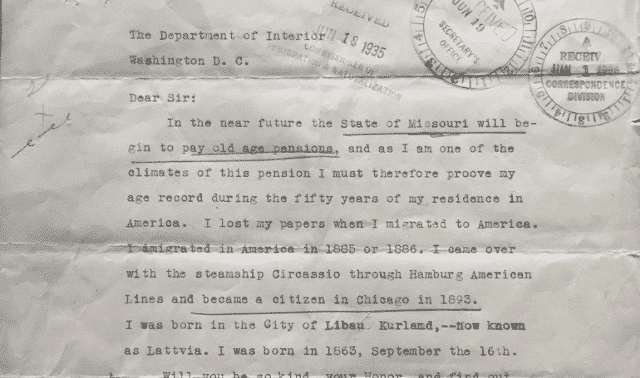 When it comes to immigration research, the Bureau of Naturalization Correspondence files, officially "Administrative Files Relating to Naturalization, 1906 – 1944," (National Archives Record Group 85, Entry 26, National Archives ID 563066) are some of my favorite files. In addition to great personal details via handwritten letters or first-hand testimony, they may also provide a place of origin for the naturalized immigrant who was the subject of the correspondence. In the case of Jacob Feinstein of St. Joseph, Mo., this file was the only US record found that provides his exact place of birth.
What we know about Jacob
Jacob Feinstein arrived in the US around 1885 and settled briefly in Talladega County, Alabama. He naturalized as a citizen in Chicago in 1893, where he worked as a shoemaker. Jacob, his wife Minnie, and their three children moved to St. Joseph, Missouri shortly after 1900. Jacob became a retail clothing merchant. His native tongue was Yiddish, but he spoke English and was literate, as was Minnie. He died in St. Joseph in 1939.
Jacob's naturalization paperwork, his death record, and several census records specified his birthplace as "Russia." The 1920 census specified "Curland," and the 1930 census "Lithuania." "Curland" could be "Courland," which gives a clue – it's the name of a region of western Latvia that was part of the Russian Empire until 1915. It's also just over 30 miles from – you guessed it – Lithuania!
Finding his birthplace
However, Jacob was too old for the draft in WWI (so no hope of finding a draft registration card with a birthplace), ship manifests from the mid-1880s are unlikely to contain an exact place of origin, and no obituaries were immediately available. However, a little-known set of records is tucked away at the National Archives in Washington, DC – correspondence that individuals wrote to the Bureau of Naturalization.
Over 770 feet of correspondence is available, and a name index is also available on microfilm in the National Archives' microfilm room. Correspondence may be from individuals with questions about their naturalization status or lost citizenship paperwork, or from officials re: fraudulent naturalizations.
An entry for Jacob Feinstein was found. He wrote to the Bureau in 1935, specifying he'd lost his paperwork when he emigrated, and needed to prove his age for a Missouri old age pension. He'd hoped the Bureau of Naturalization would be able to assist him in obtaining a copy of his birth record. In his letter, he specified he "was born in the City of Libau, Kurland — now known as Lattvia," on 16 September 1863, to Leibe and Minnie Feinstein.
Let the (next) search begin!
Libau is the German spelling of Liepāja – now the third-largest city in Latvia. With this knowledge, we can begin the search for Jacob's birth record (and his parents) overseas!
The Bureau of Naturalization correspondence files is by no means a comprehensive index to all those who naturalized, and certainly not all of our naturalized immigrant ancestors would have had reason to write in. However, if lucky enough to find an entry, great family finds may await.
Last updated, January 2022.