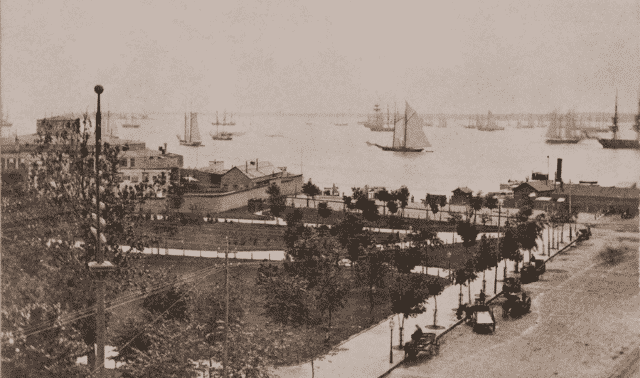 From the first explorers to the last great flood of 20th-century immigrants, our ancestors came to this country by ship. They paced the decks of the Snow Squirrel, Friendship, Two Brothers, Adeline and others, their eyes on the New World. When it comes to following those immigrants back to the old country, though, many of us are in the same boat — we know they came, but our knowledge of their past often ends on American shores.
Your first step in that long journey back is to discover when and where they landed. Then, to get across the ocean, you'll have to weigh anchor on your ancestors' ship. Pinpointing your family's vessel used to be a task confined to microfilm, CD-ROM or library researchers, but now ships' passenger lists are online — including the vast database of Ellis Island arrivals. Just just like traditional sources, the information you'll find depends on the original list; records became more detailed over time, so 20th-century lists will likely hold the most clues.
Start navigating the sea of online passenger lists at our 10 favorite passenger list websites:
The Immigrant Ships Transcribers Guild, founded in 1998, is a volunteer organization that transcribes and uploads ships' passenger lists to the Internet. To date, the ISTG has transcribed lists of more than 3,000 ships and 1.5 million passengers. Is your ancestor in an ISTG database? To find out, just use the on-site search engine, which is a bit hidden: Click on any one of the ship "volumes," click on the agreement that the information is copyrighted, and then scroll to the bottom part of the resulting page. The box there lets you search the whole site — all four volumes posted online, not just the one you clicked on. (Type your search in the box after Search — not after Surname, which is strictly to use the Soundex system to help find variant spellings.) Or you can browse the site by dates of sailing (17th, 18th, 19th and 20th centuries), ship names, port of departure and arrival, captain names and surnames. If you're unsure of your ancestor's date of arrival or country of origin, try searching for your surname alone and see what pops up. The site is updated monthly with newly transcribed lists, so check back frequently. Researchers are encouraged to check for every possible surname spelling — transcribers may have to make a spelling judgment when deciphering a poor quality record.
Besides the four ISTG volumes, don't miss the links from the home page to the Bremen and 1903 projects. The Bremen Project is a joint effort of the ISTG and the Die Maus genealogical society of Bremen, Germany, to transcribe manifests of ships departing from Bremen and Bremerhaven, Germany, in the 19th and 20th centuries. The 1903 project (unaffiliated with ISTG) aims to transcribe lists of all 1903 arrivals in New York; the lists supply passengers' names and the National Archives microfilm roll number.
The ISTG site also contains The Compass, a separate section with links to other ship-related sites. Follow these links for basic immigration and naturalization information, maritime resources, passenger ships, ship types and descriptions, historic maps and charts, captains and ship images. To search, use quotation marks in the site's FreeFind box to search on a full name, such as "Bernard Clark."
In addition to passenger lists, this searchable site provides information on the captain, the ship and, frequently, miscellaneous data about passengers. Lists range from the 1492 voyage of the Santa Maria, Nina and Pinta, to the S.S. Groote Beer crossing of 1957. Follow the links to passenger lists both on and off this Web site.
The Olive Tree groups lists by date, immigrant group (New Netherland, Irish, Huguenot, Palatine) and country of arrival (United States, Canada, Australia and New Zealand, South Africa, South American, United Kingdom). You can also search from any page; look for the search box in the right-side frame.
TheShipsList is a links site with a twist. In addition to passenger-list links, it contains tutorials, photos of ports of the world and ships, period narratives, 19th-century magazine articles and information about shipping lines. Not sure which port Great-great-grandpa Harold sailed from? Click on Pictures of Maps to see the major European ports of the 1800s. Wonder what the 1870 fare was from Hamburg to New York? Check out the Trivia section for an answer that may surprise you. If your immigration research has turned up the puzzling phrase "Declaration of Intent," you'll find a complete explanation under Q&A.
Did Great-uncle Olaf travel to the United States from Norway? If so, you may find him on this Norwegian site. It indexes the names of ships known to have left Norway with emigrants between 1825 and 1925. This includes ships that sailed to ports in America and other parts of the world.
According to the "Hunting Passenger Lists" page, the first organized party of emigrants to leave Norway were known as the "sloopers," and left from Stavanger in 1825 on the Restaurasjon. The next two ships left in 1836, and from then, ships would set out every year.
Since the site isn't searchable, use the site map to find passenger lists by ships' names and sailing dates. The "Passenger Lists" page (follow the link in the left frame) has tables organized by year that show the ship name, captain and date and port of arrival and departure. Most often you'll find name, age and gender, and in some cases you'll find a scanned image of the actual passenger list.
From the site map, head to profiles of individual ships (some of which have images of the vessel) and steamship companies. This site also contains voyage narratives, such as the one by Peter O. Stensven during his 1867 trip from Vardal, Norway, to Koshkong Prairie, Wise. — so even if you don't find your ancestor, you can get a good idea of what his voyage was like.
The National Archives of Canada holds immigration records from 1865 to 1935, including complete immigrant passenger lists. The archives also houses border-entry lists — references to people who landed at American ports and indicated that they were proceeding directly to Canada.
You can search 500,000-plus records with the archives' online database, which covers passenger list indexes from 1925 to 1935, as well as border-entry records of people whose surnames begin with C. The search screen contains five fields: surname, given name, year of arrival, port of arrival and ship. The results screen will give the passenger's name, age, sex, nationality, date of arrival, port of arrival and the name of the ship.
Summaries provided by Nancy Hendrickson
Digital images of the National Archives' passenger lists for all major US ports, mostly beginning in 1820. Plus: naturalization records, Colonial immigrant files, 1795-to-1925 passport applications and 1895-to-1956 Canadian border crossings. More than 22 million names total. Search the whole collection to do a broad sweep. Query individual databases for more search options.
The nonprofit Battery Conservancy created this searchable index to 10 million passengers landing in New York from 1830 to 1892, including arrivals to Castle Garden, the first US immigration station. Another 2 million transcriptions back to 1820 will be added later. View original passenger lists on Ancestry.com , on microfilm from the National Archives or at a Family History Center.
The Statue of Liberty-Ellis Island Foundation's searchable database links to digitized passenger manifests showing 22 million passengers and crew members who came through Ellis Island and the Port of New York from 1892 to 1924. To view a passenger list, hit "Click to enlarge manifest."
Emigrant records created in the countries of departure, with an initial focus on England, France, Germany, Ireland, Italy, Portugal, Scotland and Spain. The project, from Brigham Young University's Center for Family History and Genealogy, contains hundreds of thousands of names—and they are continually adding more. Search on part of a name. A search for Connel finds Connell, Connelly, McConnell and O'Connell.
Records of the Immigrant Ships Transcribers Guild and Ellis Island; New York-bound passengers from Bremen, Germany, 1847 to 1871; Irish immigrants to Saint John, Canada, 1841 to 1849; Scandinavian immigrants in New York, 1630 to 1674; Philadelphia passenger lists, 1800 to 1819; and more. Try searching on a person's name with and without place names and keywords.
Summaries written by Rick Crume
Additional websites for researching passenger lists and other data
Immigrants arrived in America via dozens of US and Canadian ports. Fortunately, passenger lists are easily accessible in online databases, including sites such as Ancestry.com, MyHeritage and FamilySearch.org. Besides those, search for your immigrant ancestors at these sites:
Information provided by Nancy Hendrickson and Dana McCullough
Versions of this information appeared in the June 2001 (Hendrickson), July 2008 (Crume), and March/April 2015 (McCullough) issues of Family Tree Magazine.