Sign up for the Family Tree Newsletter Plus, you'll receive our 10 Essential Genealogy Research Forms PDF as a special thank you!
Get Your Free Genealogy Forms
"*" indicates required fields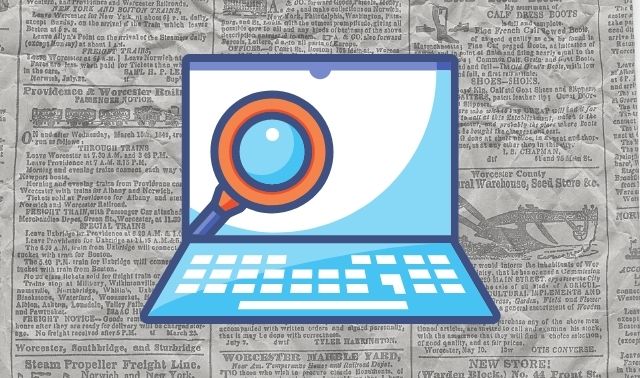 Newspapers rank among the top sources for information on key events in your ancestors' lives. Birth and marriage notices, anniversary celebrations and obituaries provide facts that form the framework of your family tree. But newspapers also reveal stories you won't find anywhere else. With a little luck, you might turn up articles highlighting your ancestors' business successes and sports honors, or lurid details of scandalous affairs and criminal offenses.
And now that many papers are online, you can search through millions of pages at once on free and fee-based websites, and get results in seconds. We'll share secrets for discovering ancestors in the collections of top newspaper websites (including free options), as well as general search tips for using any online newspaper database.
A subscription to this service lets you search county histories from the Mid-Atlantic states and New England; Godey's Lady's Book; newspapers from Pennsylvania, Virginia and South Carolina; African American newspapers; and Civil War histories.
One exciting find in this collection involved my indentured servant ancestor Tobias Shaubhut. A search on his last name turned up an advertisement in an issue of The Pennsylvania Gazette from 1786. Instead of fulfilling his obligation to work for several years, Tobias ran away after one month. His master offered a $4 reward for his return and gave this description: "Tobias Shaubhut, a taylor by trade, about 25 years of age, 5 feet 8 inches high, has a smooth face, dark hair, tied behind … " Many similar notices appear in this paper, so it's worth a look for your 18th-century indentured ancestors.
Ancestry.com
In addition to passenger lists, censuses and other records, Ancestry.com has newspapers, including those licensed from NewspaperArchive. Its coverage of 20th-century titles is especially strong. To narrow your search to just newspapers, select Search All Records from the Search tab dropdown menu. In the right column, under Stories & Publications, select Newspapers. Then, on the right, you can further narrow the papers you'll search by date or place.
In addition to using the First and Last Name search boxes, also try entering a name as a phrase surrounded by quotation marks in the Keyword box, like this: "John H. Pennington". Highlighting of matching terms on the newspaper pages ("hit highlighting") works in Internet Explorer, but not with some other web browsers.
Early American Newspapers, Series 1, 1690-1876
Available to members of some genealogical societies, this is a terrific collection of newspapers published before America's centennial. Here's a search tip for these and other Colonial newspapers: In the early part of this era, the letter s at the beginning or in the middle of a word resembled an f, which can fool OCR software. The question mark wildcard, which substitutes a ? for a single letter in your search term, can help you out. Search on Bri?tol, for example, to find the word Bristol in newspaper articles, whether the OCR process interpreted it as Bristol or Briftol.
Fold3
Along with its census, military and other records, Fold3 has newspapers from across the US, plus the London Times. To search or browse newspapers, click on the Original Documents link, scroll down and select Newspapers. Enter your search terms in the search box and click the Go button. Optionally, narrow your search first by selecting a country, a state, a specific newspaper and a year. You can search all the newspapers from a country, state or city at once. You also can search all the years available for a newspaper, but you can't limit your search to a range of years.
Chronicling America
Chronicling America, a free resource from the Library of Congress site has two parts:
Digitized newspapers (1836-1922): The Advanced Search for digitized papers lets you compose complex queries. Type keywords to find in "any of the words" on a page (like using the OR search operator), "all of the words" (all the words must appear on a page, but not necessarily together), and/or "with a phrase" (find an exact phrase). The last keyword phrase lets you run a proximity search by specifying how close two words have to be (Thomas Frost within 5 words of each other would find Thomas Frost, Thomas William Frost and Frost, Thomas). You can limit your search to specific states and/or newspaper titles, a year or date range, and language.
Click on the All Digitized Newspapers 1836-1922 tab to find newspapers by state, ethnicity and language. Then you can browse a specific newspaper by date. That could be helpful when searches don't turn up good matches or you're looking for a specific issue.
US Newspaper Directory, 1690-Present: Use the directory to find information about newspapers published in the United States, most of which haven't yet been digitized. You can search by state, county, city, years and other criteria. The directory tells you which repositories have microfilm copies you may be able to borrow through interlibrary loan.
GenealogyBank
GenealogyBank, a huge subscription site, has newspapers from across the country, including African-American, Hispanic and other ethnic titles, plus obituaries back to 1977. Try searching on just an ancestor's last name if it's unusual, or add a first name if it's common. You'll get a match whenever the terms you enter in the Last Name and First Name boxes appear within two words of each other in an article. This proximity search finds the names even when separated by a middle name or initial. Also try using the Advanced Search and entering a name as a phrase surrounded by quotation marks in the Include Keywords With Search box. You can select one or more states to find only matches in papers published there. Or click on a state name in this list to further limit matches to papers published in a specific city.
To browse a specific newspaper, scroll down on the home page and click List of Newspapers By State, select a state, and you'll see papers alphabetized by city of publication. Click on a title. Then enter the year in both date range boxes and click on the Begin Search button. Sort the issues by date and jump to the date you want to browse.
Google News Archive
Searching Google News gets you links to recent articles on other sites. But the Google News Archive Search covers newspapers back to 1738, including material digitized by Google and other parties. Both searches cover American and foreign news, and include free and fee-based articles.
You might search the Google News Archive for a name. Try putting it in parentheses to search for the exact phrase, such as "Frank Crume," and adding a place, spouse's name or other word to narrow your search. You can't narrow your search to a specific newspaper or a range of years.
The News Archive Search page has an alphabetical list of all the titles in the collection, but there's no list by place of publication. (Use the Find option in your web browser to look for a word such as Baltimore in a newspaper title.) Click on a title to browse the newspaper by date. The site's functions are very limited and Google doesn't plan to add more newspapers to the collection.
As the nation's "newspaper of record," the New York Times is a key store of news from not only New York City, but the whole country. Articles are displayed as PDF files. To zoom in on an article with Adobe Reader X, the latest version of the PDF-reading program, hover your cursor over the lower part of the screen and a menu bar will appear with options including Print and Save. Click on the plus sign to zoom in and on the minus sign to zoom out.
NewspaperARCHIVE
By far the largest online collection of newspapers, NewspaperARCHIVE has more than 400 years of papers from around the world. The Advanced Search page provides several options for searching and narrowing your search by date and place. You can search with an initial, as in John H. Pennington or J. H. Pennington, either by including it in the First Name box or in the Exact Phrase box on the Advanced Search page. Note that Newspaper­ARCHIVE doesn't support searching with wildcard characters.
To browse newspapers, select Browse Papers from the Browse tab. Next, choose a country, state, city, newspaper and date. Then you can view the pages in that issue. You also can run a search at any of those levels—such as searching all the newspapers in a state or a city—by filling in the search box below the selection options.
Newspapers.com
Ancestry.com has a sizable newspaper collection, but its subscription-based sister site Newspapers.com has one of the slickest interfaces of any online newspaper website. Scroll down and click on Help to watch video tutorials.
Matches here must contain your search terms (such as a first and last name) on the same page, but not necessarily near each other. The Advanced Search (click Add More Info on the home page, or Show Advanced after you've run a search) lets you narrow the search by place and a range of years. Once you've run a search, you can filter the results by date (either enter years or use the date sliders), place (click a state on the map or select a state from the list), and newspaper title.
The site adds millions of newspaper pages every month. Instead of running the same searches over and over again, click on the Save/Notify button to save your searches to run automatically. You'll get an email notification whenever a match is found in new pages.
When you find a newspaper page matching your search, click on Print/Save to save it to your computer. If you click Clip, you can "clip" a portion of a page, along with a note, then print, download or share the clip, or even save it to your Ancestry Member Tree. Click on the Clippings tab to see all your clippings.
Borrowing microfilmed newspapers from the New York State Library costs out-of-state libraries a minimum of $20 plus shipping. So it's great to have free access to many New York state newspapers through this growing site coordinated by Tom Tryniski.
Despite the name, Old Fulton NY Post Cards has newspapers from all over the state. To download the list as an Excel file, click first on FAQ_HELP_INDEX at the top of the screen, then the link to "browse the different papers," and finally "Download this index as a Microsoft Excel file."
If you're viewing the newspaper articles in Adobe Reader X, hit highlighting won't work. To enable it, you could install an earlier version of Adobe Reader. But it's probably more practical to save the PDF file to your computer and then use Ctrl-F to search for a word on the page. Note that you can copy and paste text from this site's PDF files, so you can easily copy an article into a word processing document or quote an article when documenting the source in your genealogy software.
Truly international in scope, Paper of Record has large collections of newspapers from Canada and Mexico, as well as titles from the United States, Europe, Australia, the Caribbean and South America. Formerly accessible through Google and World Vital Records, as of this summer, Paper of Record is once again available only by subscription through its own site.
You can search only one newspaper title and a five-year span at once. Hit highlighting also doesn't work quite right. Paper of Record is upgrading its searching, so watch for improvements.
ProQuest
The ProQuest Historical Newspapers collection is available only through subscribing libraries, so check with nearby public and college libraries. You might even be able to log in from home. The library may not have access to the entire collection of 42 newspapers. If it subscribes to at least five, you can search all of them at once; otherwise, you can search only one newspaper title at a time.
Twelve newspapers from this collection are available directly to consumers through ProQuest Archiver. You can access them, plus more than 100 other newspapers from roughly the past decade, on a pay-per-view basis.
Well-known for covering even the most mundane goings-on, small town newspapers are terrific sources for learning about our ancestors' everyday lives. This collection includes local newspapers from across the United States.
To search the collection back to about 2006, click the red Enter Here link on the right. You can't search older issues of all the newspapers at once, but you can search individual titles. Click on Browse by State on the home page and then click on a title, such as Minnesota Askov American. Near the top of the page, there's a search box for the Google Newspaper Archive search, which includes many titles from SmallTownPapers. If the newspaper doesn't have a Google Newspaper Archive search box, you may be able to access it on Footnote or NewspaperArchive, but both of these are subscription sites.
More Online Historic Newspaper Archives and Resources
Searching Online Historic Newspaper Tips
Make matches manageable by limiting your search to a specific place, newspaper and/or date range. World Vital Records (now part of MyHeritage) has newspapers from Hamilton, Ohio, when George W. White lived there. It's a common name, but I've had good luck searching just papers published in his hometown.
On the other hand, you might find someone you've lost track of by searching a collection of newspapers from across the country instead of just papers form your ancestor's hometown.
Public and college libraries may offer free access to newspaper sites, so check online or call nearby libraries. FamilySearch Centers provide free on-site access to several premium websites with newspapers, including 19th Century British Library Newspapers, Newspaper ARCHIVE, Fold3 and World Vital Records.
When searching a foreign-language newspaper, remember to translate your search terms into that language. OCR may have a hard time indexing text in non-English alphabets, so if your search is unsuccessful, try browsing for the information you need.
Search strategies
Know what you're searching: Look over the list of newspapers included in the database you're using to get a feel for the geographic range and time period covered. Does the site have newspapers from your ancestors' hometowns? If so, be sure to search for their names. If the site doesn't cover the years you need, use the Chronicling America newspaper directory to see what papers were published during your ancestors' lifetime, and borrow those papers on microfilm (see the previous page) or keep an eye out for websites with those titles.
Play name games: Start with a broad search and then try different combinations of search terms to focus on the best matches. Begin by searching on just the last name if it's unusual. Then add a first name and search both with and without a middle name or middle initial. Someone who usually went by his first name might've used his middle name at times, and in the 19th century, men often went by two initials plus their last name. I've turned up numerous articles about my relative John Hudson Pennington by searching for John H. Pennington, J. H. Pennington and Hudson Pennington. He called himself "Colonel" despite never having served in the military, so I also search on Colonel and Col. as if they were first names. Also try ignoring the name search boxes and search instead on the name as a phrase, either surrounded with quotation marks in a basic search box or by using the phrase search box, if there is one. If you get too many matches, add other criteria, such as a year range and keywords.
Add keywords to your search: Think of a term closely associated with your target person, such as an occupation, a place name or a spouse's name. George W. White was an artist, so using the keywords artist and portrait in combination with his name turns up articles about the right person. A home address, street name, military unit, school, church or fraternal club also make good keywords.
Expect OCR mistakes: Newspapers are usually scanned from microfilm, and the text is sometimes of poor quality. These factors can cause mistakes in how optical character recognition (OCR) software "reads" the text. Those mistakes can easily foul up your phrase searching: A misinterpreted letter means the word won't be indexed correctly and you won't get a match on it. The longer the phrase you search on, the more likely it is that a mistake will creep in. So keep phrase searches as short as possible, using only as many words as you need to get a manageable number of matches. For example, instead of searching with the phrase "San Francisco Land and Cattle Company" try just "San Francisco Land."
Search with wildcards: Most online newspaper databases support wildcard character searches. Use wildcards for names that could be spelled different ways: An asterisk usually substitutes for zero or more characters (Rob*son finds Robinson, Robison and Robertson) and a question mark substitutes for one character (Ols?n finds Olson and Olsen). Also keep in mind that in many 18th-century newspapers, the letter s resembles an f. OCR often mistakes an s for an f or an l. To get around this common problem, you can search with Bri?tol, for example, to find the word Bristol mistakenly interpreted as Briftol or Briltol.
Go with the advanced search: Most newspaper websites have an Advanced Search form where you can fill in the blanks to do more complex searches. An advanced search form might let you fill in a box to include all of the words you type or any of the words you type. Use the Boolean operators AND and OR to create more complex searches. To find articles on John H. Pennington's railroad business, I can search on his name plus the keywords railroad OR railway, or put those words in a search box for "any of the words." Advanced searches also might let you limit matches to a place and year range.
Peruse pages: If your search doesn't work, but the database covers newspapers that should mention your ancestors (most sites have a list of titles and coverage years), try browsing. Select newspapers published in the appropriate place and time period and view them page by page. You might focus on issues around the date of a marriage or death, or just browse through papers published when your family lived in town. Your ancestors might be mentioned regularly in the local news columns in small town newspapers.
Accessing Offline Newspapers
Many old newspapers aren't digitized online, but are available on microfilm that you can borrow for a small fee via interlibrary loan. To find these papers, use Chronicling America's US Newspaper Directory to identify titles from a particular place and time period. Or you can use WorldCat, a catalog listing the holdings—including newspapers—of many libraries: Search on the city, state and the word newspapers, for example, Houlton Maine newspapers (it doesn't matter if you abbreviate the state name or spell it out).
Once you find a library that has the microfilmed paper you need, go to its website for details on its interlibrary loan policies. Visit your library's reference desk to fill out the necessary paperwork to borrow the items. Your library will notify you when the film arrives, and you must use it at the library. Typical interlibrary loan fees are $5 to $10 per roll of microfilm. The New York State Library charges substantially more, $20 to borrow film from out-of-state, so look for online versions of newspapers before ordering.
A version of this article appeared in the March/April 2014 Family Tree Magazine.
Related Reads