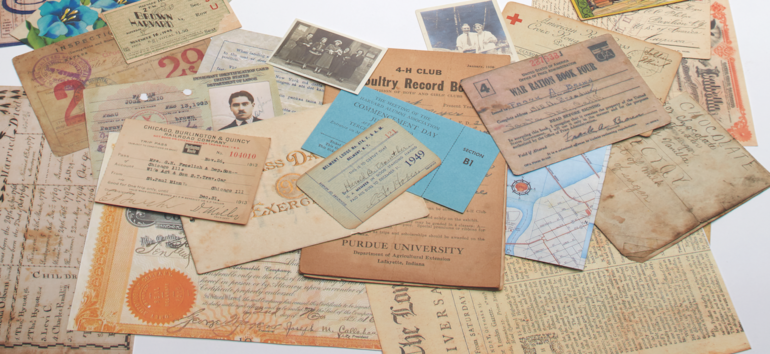 Even though we live in a digital age, life continues to generate a paper trail. But for our late 19th- and 20th-century ancestors, cheap paper and affordable printing created a veritable highway of paper letters, receipts, handbills, forms, tickets, advertisements, brochures, maps and more.
Webster defines ephemera as something lasting only a day, kind of like a mayfly, but to collectors and social historians, ephemera refers to items intended to have a transient or temporary nature, especially printed or handwritten items made to be used and thrown away. Collectors might amend the definition with items such as political buttons, matchbooks and commemorative pins.
When ephemera wasn't tossed, though, those bits and pieces of day-to-day life can add color to your family stories, illustrate your photo book or written project, and even extend pedigrees. A travel brochure could describe your parents' honeymoon destination. A school's annual report might list the classes Grandpa likely took. A church centennial booklet might name your relatives among its founders (and give you their friends' names, candidates for your cluster research strategy).
And you don't have to have a family archive full of your ancestors' ephemera. These items are widely available at libraries, museums and online. We'll show you what to look for, where to look and how to use these paper treasures in your research.
In this article:
How to Use What You Already Have
Online Sources for Finding Ephemera
How to Use and Display Ephemera
Types of Ephemera
The list at the end of this article contains examples of ephemeral treasures that can enhance your family story, especially these items:
Personal papers
Consider the evidence in your purse or wallet. You probably have receipts, driver's license, insurance card, credit cards, library cards and club membership cards. Imagine finding those same items among your ancestor's things. Old receipts would show where a relative did business and possibly her financial situation. The identification card could confirm an address, provide a physical description, or give you an authentic signature. Club memberships would reveal hobbies and interests, possibly leading to a membership application, rosters or newsletters.
Look also for address books, day calendars, Christmas card lists (and cards received from others), and other correspondence. You might discover an overlooked detail like the house number for your grandparent's place, or whether it was a "Street" or a "Drive." Double-check for accurate addresses on documents such as drivers' licenses or envelopes.
Military memorabilia
Certificates, citations, discharge papers, photos, telegrams and letters, wartime ration cards and other paperwork can help you tell your military service member's story. These papers also provide clues for further research in government records. Local historical societies are good sources for ephemera related to nearby military bases and units raised locally. Also visit museums focusing on the history of the local area or the history of the war or battle your ancestor served in.
Educational ephemera
Check your research and ask family where ancestors went to grade school, high school and college. Also examine historical maps for neighborhood schools your family may have attended. Note any schools where relatives worked, too. Then look for the following school-related memorabilia:
report cards
graduation invitations, announcements, programs
concert and theater programs
homecoming, prom, and dance tickets and programs
trophies, ribbons and other awards
class pictures
yearbooks and school newspapers
sports tickets and programs
High school and college yearbooks often chronicle the high points of a student's academic years. Look for individual profile photos, group photos for clubs and teams, and handwritten inscriptions from classmates. Yearbooks are becoming more available online at sites such as Ancestry.com. Cyndi's List will link you to more sources.
Search for yearbooks and other ephemera at home and at local repositories, including school and university archives. You also might find it in online collections. Extract key names and dates for your genealogy records, and note classmates who may have become friends or future relatives. Look closely at group photographs using a magnifier or jeweler's loupe to enlarge tiny faces. You may find your relative in unexpected clubs or teams.
Business records
Ephemeral material can enlighten you about your ancestor's occupation, employer or place of work. Businesses generated paper forms, advertisements, brochures, newsletters, letterhead, promotional items (such as pens and notepads), employee time sheets, and sales receipts. Start your search by finding the business address in city directories or censuses and locating it on a map.
Then search digital collections for photographs and other material related to the business. Search for advertisements and news articles in city directories, available at local libraries and websites such as Ancestry.com and in the Compilation of Published Sources collection on MyHeritage. Find links to thousands of directories, organized by place, at the Online Historical Directories Website. Also search for ads in digitized newspaper sites such as Newspapers.com and GenealogyBank. Don't rely on optical character recognition indexing—which can misinterpret print—to always find the name you need. You might need to browse newspapers or directories' alphabetical listings (look for an advertiser index in the front or back).
Especially if a business was prominent, local historical archives also are good sources of material.
How to Use What You Already Have
Using family papers and photos you already have—or that you can easily get to in a relative's home—is a basic step in genealogical research. Take a close look (or a second look, if you've already done this) at your family history archive. Carefully examine scrapbooks, photo albums or paper collections. Ask if you can check relatives' homes, too.
But fortunately, you don't have to inherit a houseful of photos, documents and heirlooms to find valuable genealogical material. Local and online archives are rich resources for ephemera that adds interest and personality to your family history (see the next section for suggestions). Ephemera often isn't indexed by name, meaning you'll need to see it to judge how it fits into your research. For example, you might find a high school commencement program naming your ancestor, and it's even more likely you could locate photo postcards of school buildings, event programs and other memorabilia that gives you a look inside your relative's high school career.
Here are a few ways to find your ancestor's ephemera:
List what to look for.
Focus on one family at a time. Note their addresses, migrations, neighborhoods, churches, schools, places of employment, businesses patronized, military service, social clubs and hobbies. Each of these activities has the potential to generate related ephemera.
List related archives and collections.
Check your list and note historical societies in the states, counties and cities where your ancestors lived, college or university libraries and archives, religious groups, social organizations, employers and labor unions. Add to your list by running web searches such as historical society Clark County Indiana or library Covington Ky.
Explore the websites of each organization for collections of local ephemera, manuscripts or printed works, and search the online catalog for the businesses, churches, schools and other items on your list of what to look for. Ephemera holdings may not be cataloged or described in great detail. If not, you may need to call, submit a research request or plan visit to view materials and learn whether they apply to your family history.
Online Sources for Finding Ephemera
A growing number of archives are putting digitized ephemeral materials on their websites. Use the search feature on the site or search with Google following this example of searching for mentions of World War I on the Public Library of Cincinnati and Hamilton County website. Don't forget about archives that exist only online in digital form, such as Florida Memory and Ohio Memory. The Digital Public Library of America is a good way to search digitized content on these sites.
Finally, look for memorabilia that collectors and family historians have shared on blogs, family websites and Pinterest. A Google search for immigrant ship menus, for instance, brings up results with images and articles about what our migrating ancestors ate on board.
Frequent online auctions and sales
eBay is the best-known auction site; search for surnames and the other terms on your list of what to look for. Search site-wide and the Collectibles & Art category. It might help to add the word genealogy (also try the common misspelling geneology) or history to your search. Other auction sites to try include Goodwill and Listia.
Etsy gained attention as a marketplace for crafts and handmade items, but now sellers can offer antiques and vintage goods there. To focus on ephemera, narrow searches to Vintage, then Arts and Collectibles. JustaJoy posts family items for sale on its searchable website where digital images of items sold remain online for others to research. A subscription is required to view item details. Facebook hosts many online yard sales. In the search bar, type your community name and yard sale. Cyndi's List can lead you to websites offering found family heirlooms, photos and memorabilia for sale or research.
Shop local
Finding relevant ephemera is hit or miss at garage sales, thrift shops, antique stores, flea markets and estate sales, but looking is worthwhile if you enjoy the hunt. Focus on sales in areas your family lived and bring along your list of what to look for. Look for listings in the local classifieds, on Facebook and at EstateSales.net is a handy place to learn about these sales near you.
How to Use and Display Ephemera
If the ephemera is from your own or a relative's collection, scan or photograph it following the instructions in my book How To Archive Family Keepsakes. The book also gives guidelines for storing originals in archival-quality containers. When you find ephemera at a library or archive, follow the organization's rules about making copies. For example, the repository may ban flash photography or allow only staff to photocopy items. Preserve master copies of digital images and create working copies to edit or use in your research.
In addition to recording any genealogical information you find, consider using ephemera in these ways:
Embellish family history narratives.
A brochure about the dam your engineering grandfather worked on could help you describe what he did every day. Did your great-grandparents go to the 1904 World's Fair in St. Louis? The Missouri History Museum Library and Research Center has photos, menus and souvenirs from the fair. Be sure to note the source information for the items you use, either at the bottom of each page or the end of your narrative. (Our Source Citations Cheat Sheet can help with this.)
Add interest to a family history book.
Use images of ephemera to lend life to a family history book, whether it's a full-fledged novel or a photo book you create online. Be selective, incorporating images of items that best illuminate your family story. Include an image of a newspaper advertisement or letterhead from your great-grandfather's business, sheet music for Grandma's favorite hymn, or the playbill for the community production your mom starred in. Ephemera also can fill in where you lack photos: Many of us don't have pictures of immigrant ancestors, but ship images are easy to find online. Run a Google images search for the vessel name, shipping line if you know it, and the word ship. Include a caption that states what the image is and gives the source.
Check the copyright status before publishing images that aren't your own. Many printed items authored by government entities or created before 1923 are in the public domain, but always look for rights information to make sure. If you can't find any or the item is under copyright, call or email the copyright holder to request permission to use it. Chances are it'll be fine to use the item for your own research, such as in a photo book you plan to keep or give as a gift.
Display in a frame.
Craft a unique keepsake by displaying a collection of photocopied ephemera in a frame. For example, accent a photo of the family business with copies of the newspaper ad, letterhead, business license, city directory listings and a map with the location marked. Mount a timeline or narrative about the business on the back of the frame.
Start a collection.
It's easy to catch "ephemera fever" once you've been introduced to the charm of vintage family history memorabilia. Paper collectors, or ephemerists, typically focus their zeal, collecting by theme (schools, Denver, sewing) or category (pocket calendars, postcards, sporting tickets). You might consider the family business, ancestral hometown, or Dad's hobby as a broad theme. Find inspiration with these sources:
Last updated: Nov 2022