Sign up for the Family Tree Newsletter Plus, you'll receive our 10 Essential Genealogy Research Forms PDF as a special thank you!
Get Your Free Genealogy Forms
"*" indicates required fields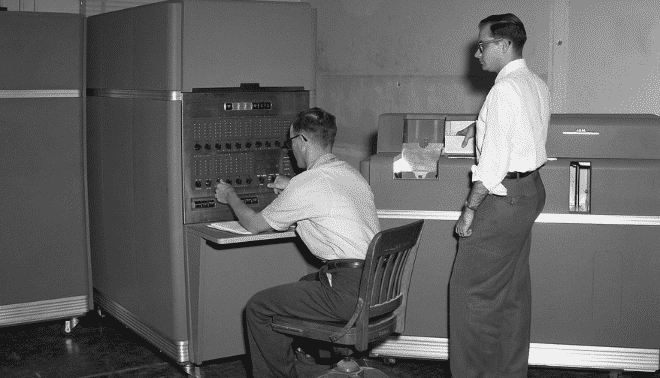 When Family Tree Magazine began publication in January 2000, genealogy researchers relied mostly on snail-mailing requests, looking up names in printed books and scrolling microfilm. Today we still use those methods, but most of our research time is spent searching websites and communicating online. What used to take weeks or months to accomplish via the mail and interlibrary loan can now be done in seconds online. And DNA testing has become a routine way to prove and disprove relationships and identify our ethnic origins.
Let's look back at the 15 tech tools that have most transformed genealogy—and that you'll want to include in your research toolbox.
1. Online census records
Online collections of US census records from 1790 to 1940 have probably been the single most important development for genealogists over the past 15 years. Conducted every 10 years since 1790, federal censuses are generally regarded as the most comprehensive resource for researching American family history.
Easy online access adds to the usefulness of the census and creates a convenient starting point for newcomers to genealogy. In 2006, Ancestry.com finished digitizing and indexing all extant census records from 1790 to 1930. It was the first major genealogical resource to come online with digitized page images linked to an every-name index. This census database set the standard for online access to records and paved the way for the digitization of newspapers, passenger lists, books and other resources. Ancestry.com also has added UK and Canadian census records. Other websites with the full run of US censuses linked to digital images include MyHeritage.com and Findmypast. FamilySearch.org has indexes for all US censuses, with digital images for some.
US censuses from 1790 to 1840 list only the names of heads of household and the number of males and females by age group. Beginning in 1850, they list each person's name, age, state or country of birth and more. Only a small fraction of the 1890 census survives, but other years are quite complete. Census records are confidential for 72 years; 1940 is the most recent year open to the public.
2. Crowdsourced databases
Online digitized records are great, but searchable name indexes make online records far more useful. Record indexes are labor-intensive and costly to produce, though, so genealogy organizations have come up with a solution: Enlist help from the general public. These three sites' indexing projects are good examples:
3. DNA testing
Since Family Tree DNA introduced commercial DNA testing for genealogy in 2000, it has rapidly become a go-to way to prove or disprove family connections and identify ethnic origins. As genetic genealogy companies continue to refine the technology, the research benefits of DNA testing increase. The most useful tests for genealogy examine two kinds of DNA:
Y-DNA is passed down through the paternal line, so only males can take this test. Since children usually adopt their father's surname in our culture, Y-DNA is generally linked to a surname (except in cases of "non-paternity events.") Because Y-DNA mutates slowly over generations, a Y-DNA test can estimate how closely two men are related.
Mitochondrial DNA (mtDNA) is passed down from a mother to her children. Both men and women receive mtDNA from their mother, however because men do not pass on mtDNA, this test is only used for tracing maternal lines.
Autosomal chromosomes are the 22 pairs other than the sex-linked X and Y chromosomes. You inherit autosomal DNA from all your ancestors, to varying degrees, and the more autosomal DNA two people share, the closer they're probably related. An autosomal DNA test can predict whether the matches are relatives up to the fifth cousin level, and sometimes beyond. It can also estimate your overall ethnic ancestry.
4. Genealogy megasites
Large genealogy websites with digitized and indexed collections of the most-used historical records—censuses, passenger lists, draft registrations and more—make it possible to discover names, relationships, residences and other details for entire family lines in one sitting. These sites also have smaller, yet informative, record sets. Three of the largest sites continue to grow and improve:
Ancestry.com boasts more than 14 billion records, including census, birth, marriage, death, military and immigration records, plus more than 60 million family trees of its members, as well as digitized books. Its search capabilities continue to grow more sophisticated. The site's most impressive technological feat is the ability to search through all those records and family trees in a single search.
FamilySearch.org also has large, growing collections of records, books and family trees. These include more than 1,500 searchable record collections (other collections aren't yet indexed, so must be browsed instead of searched), more than 3.5 billion names in searchable databases, and 81,000-plus digital books. All are free. FamilySearch adds more than 35 million records to the site each month, so keep checking back for your ancestors' names.
MyHeritage, which started with online family trees and expanded into historical records when the 1940 census was released, now offers 5 billion records, 27 million family trees and 200 million photos. Based in Israel and available in 40 languages, the site has a strong international presence.
5. Genealogy software
Keeping your genealogy research organized is a big job. Doing it on paper requires an intricate filing system, lots of charts and plenty of room for storage. Genealogy software, on the other hand, helps you digitally record details for trees with thousands of profiles, easily retrieve digitized records for each person, and note the sources where you found each piece of information. Most programs let you create charts and reports, and share your family tree with others. Some work with database sites for streamlined searching and attaching records. Software can improve your research efficiency, contradicting the myth that only those with loads of extra time (read: retired folks) can do genealogy.
Ancestry.com's Family Tree Maker, the most popular genealogy program, automatically searches the site's record collections for the names in your tree. A waving leaf beside a name indicates a potential match; click on the leaf to view the record (you'll need an Ancestry.com subscription to see most matching records). You can then evaluate the match and add the record to your family tree.
The free Family Tree Builder software from MyHeritage works much the same way. Besides helping you record your genealogy finds, it automatically searches the site's online records and family trees for matches with your relatives. You'll need a subscription to access most of the records on MyHeritage, too.
6. Google
Google has evolved over the past 15 years from a simple internet search engine into a multifaceted service with a host of tools useful to genealogists. Click on the squares in the upper right hand corner of Google's homepage to access these tools.
Use the web search to find information on people, places, historic events and just about any topic you can imagine.
Search Google Books to access rare books and journals.
Check Google Images for pictures of people, schools and churches.
Locate your ancestral hometown with Google Maps. Once you find a place of interest on a map, you often can see a picture of the street and buildings in Google Street View.
Use Google Earth to get an aerial view of your ancestor's hometown. By consulting old atlases and deeds, you might even be able to locate a family homestead and see what's there now.
Decipher foreign-language documents with Google Translate.
Learn how to research your family history with instructional videos on YouTube.
6. Mobile tools and apps
Armed with an internet-enabled smartphone or tablet, a genealogist can do just about any research task just about anywhere, speeding up the pace of research. All the leading genealogy software producers have come out with mobile apps that let you take your family tree with you on your phone, tablet or other mobile device. Some of these apps have evolved from simple tree viewers to more powerful tools that let you edit your tree and search genealogy databases.
Ancestry.com, the maker of Family Tree Maker software, and MyHeritage, the maker of Family Tree Builder, have released free mobile apps that let you view and edit your family tree, and search for historical records online.
RootsMagic and Legacy Family Tree, both Windows genealogy programs, and Reunion, for Mac, also have released mobile apps. FamilySearch's FamilySearch Tree app lets you browse the FamilySearch Family Tree on FamilySearch.org and add photos, stories and audio records to your ancestors in the tree.
Genealogists can also take advantage of mobile apps for editing and sharing photos and videos, viewing maps and other genealogical tasks. See or links to some of our favorites.
7. Digitized books and newspapers
It's hard to overstate how important digitized books and newspapers are to genealogists. Family and local history books are rich sources of genealogical information, but most of them are rare and hard to find. Newspapers publish birth, marriage and death notices; obituaries and local news stories. You can borrow microfilmed newspapers on interlibrary loan, although scrolling through them in search of a name is time-consuming.
Now that large collections of rare books and old newspapers are online, you can search for a name across many years of newspapers or in thousands of books at once. Google Books, the largest online book collection, lets you search books and journals from libraries and publishers around the world. You can view many for free; others are available in "snippet" view or offer only publisher information you can use to locate a print copy. Using the Advanced Search, you might search on a name plus the word genealogy, family or history as a title word or subject.
The Library of Congress' Chronicling America website has both searchable online newspapers (1836-1922) and a directory of all historical newspapers published in the United States with information about libraries that hold them (1690-present).
9. Online family tree databases
Composed of family trees submitted by researchers (by using genealogy software or building their trees online), family tree databases let you quickly review other genealogists' research so you can build on their findings.
Online family tree databases have surged in size. The top 10 databases profiled in Family Tree Magazine in 2000 held a total of 285 million names. When we revisited the topic in early 2014, the top 10 family tree databases had more than 7 billion names. The largest family tree collections, listed below, now support source citations (helping you determine whether the information in the tree is valid), stories and pictures. You'll want to check these sites for your relatives:
Ancestry.com Public Member Trees contain more than 2 billion names. The site automatically searches its databases of records and trees for the names in your tree. You can build a tree for free (registration required), but you need a subscription to view records that match people in your tree.
FamilySearch Family Tree is free, but you must register to use it. While most online family tree collections have massive duplication, FamilySearch created this tree with the goal of having just one comprehensive profile for each person. Any user can update any profile, which FamilySearch says will make its Family Tree as accurate as possible.
MyHeritage trees are free to build for up to 250 profiles; you can subscribe to create a bigger tree and get other enhancements. The site's Smart Matching tool looks for matches between people in your tree and the names in other users' trees. The Record Matching tool finds matches in MyHeritage historical records, which require a separate Data subscription to view.
10. Online mapping
Old maps can open up new research avenues, showing you former county boundaries, streets as they used to be, and small hamlets that no longer exist. They can help you locate the places where your ancestors lived and identify their churches and cemeteries.
Modern technology lets you flex your mapping muscles in ways previously impossible. Thousands of historical maps have been digitized and placed in online collections nd apps combine digitized maps and GPS (global positioning system) technology so you can overlay old maps of ancestral hometowns onto modern ones, for example, or plot places where records indicate your ancestors were.
These three sites use maps to organize historical resources by place:
Historic MapWorks has more than 1.6 million old maps online, including US property atlases (which name landowners). Search options include keywords, town names and even a modern-day address or latitude and longitude coordinates. You can view maps online for free and purchase printed maps.
PlaceMyPast lets you upload your family tree, then it plots your family's migration on a map. You can also view information about and images of the places where your ancestors lived.
HistoryPin lets users "pin" historical photos, videos, audio recordings and personal recollections to locations on Google Maps. You can search by place to peruse content that museums, historical societies and other individuals have added.
11. Online translators
Want to trace your ancestry back to a non-English-speaking homeland? You'll probably have to work with foreign-language records and websites, and communicate in that language with repositories. Until recently, you would've had to learn at least the basics of the language and spend time looking up words in a foreign-language dictionary (or hire someone to translate for you).
Now, you can get a pretty good translation instantly with free online tools. While automated translations usually aren't perfect, they're usually good enough to get you by. Google Translate, perhaps the best-known online translator, translates between about 80 languages. Just type your text, enter a website address or select a file on your computer, and then select the destination language. It even can translate from speech: Click on the microphone icon to begin. Click on the keyboard icon to open a virtual keyboard to enter foreign-language characters.
If a Google search turns up foreign-language Web pages, Google automatically offers to translate the page. Use Google's free Chrome web browser and whenever you visit a site that's not in one of your preferred languages, Google will offer to translate it. Microsoft's Bing Translator works much like Google's, and can handle 44 different languages.
12. Optical character recognition
Making old books and periodicals searchable on sites such as Google Books and Chronicling America depends on the development and refinement of a key technology: optical character recognition, known as OCR. The process begins by scanning a book or newspaper page directly or from a microfilm copy, and saving it as an image file. The image is run through OCR software, which recognizes letters and converts them to text. Genealogy websites can dump that text into a database, which you can then keyword-search for ancestors' names and other terms.
The process works well with sharp text, but sometimes misreads faded or blurry words, or pages scanned from poor-quality microfilm. Nor can OCR read handwritten documents, such as census records and old wills and deeds. For the labor-intensive job of indexing those records, organizations like Ancestry.com and FamilySearch hire overseas indexers or rely on volunteers.
That could soon change. Mocavo has reported significant progress in developing Intelligent
Character Recognition software, a version of OCR that works with handwritten documents. Once the technology is refined, it could automate the conversion of old probate records, deeds and other manuscripts into searchable text. The ability to search for a word anywhere in all those records could finally break down some of the brick walls in your family tree.
Update: In 2016, Mocavo was acquired by Findmypast.
13. Social networking
Social networking sites, which let you interact with other people and work together to generate web content, are to today's researchers what mailing lists, forums and printed surname queries were to yesterday's researchers. Because so many people use the following sites, they're also a good way to interact with folks who aren't as into genealogy as you are:
Facebook, by far the largest social network, has more than 1.3 billion active users every month. It lets you create your own profile and "follow" updates from your friends and genealogy organizations. You can share family photos, stay in touch with relatives, search for potential relatives and join genealogy groups.
Twitter lets you publish messages, called tweets, of up to 280 characters. They can include photos and links to websites. You can follow people with similar interests, such as genealogy, and search tweets by keyword.
Pinterest is like a bulletin board where you can pin pictures of things that interest you. You can pin photos, maps, old records, research tips and more that you find on websites or upload from your computer.
Social networking features also are becoming part of the fabric of genealogy websites. Some have Facebook or Pinterest buttons you can use to share records with friends, and let you leave notes on documents or photos. Family tree sites let you make building your family tree a group project, and some include family calendars and messaging.
14. Tablets
Tablet computers, popularized by Apple in 2010, offered computer users a compact alternative to their bulky laptops. A book-size cross between a computer and a smart phone, a tablet has a touchscreen display, a camera and a microphone in a single unit. Most tablets are Wi-Fi capable. There's no keyboard, but an onscreen virtual keyboard pops up for typing.
A tablet is an ideal companion for a genealogist. Its light weight, large display and touch screen are perfect for
viewing photos, taking notes at the library and surfing the internet. You can use the built-in camera to take still shots and videos of gravestones, and "photocopy" documents (even capture an image from a microfilm reader).
Along with tablets came the growth of apps and cloud computing. Load a family tree app on your tablet and you can keep your tree, along with sources and notes, at your fingertips. See tool No. 6 for more on genealogy apps.
15. WorldCat
Let's not forget about the massive amount of genealogical materials and records that are offline, in libraries and archives. Fifteen years ago, these items were a lot harder to find: You had to check multiple library catalogs, some of which weren't yet online. WorldCat has radically changed that with its catalog of 2 billion items in more than 10,000 libraries worldwide. It even catalogs items in FamilySearch's Family History Library. Each WorldCat listing names holding libraries in order of their proximity to you, making the site and its mobile app a great tool for locating books, manuscripts, microfilms and newspapers related to your research.
Click on Advanced Search and try these subject searches (capitalization doesn't matter):
a last name plus the word family (as in Reckers family) to find family histories
a town or county name plus the word history (Shieldsville history) to find local histories
a place plus the word genealogy to find published records (Lancaster County genealogy)
If the place name you enter is a common one, add the state's full name or abbreviation, such as Pennsylvania or Pa. To catch other matches, try keyword searches on all the above terms.
Be sure to run similar searches on WorldCat's innovative ArchiveGrid tool, a searchable catalog of descriptions of library manuscripts.
All this looking back begs the question: What's in store for the next 15 years? Our money's on developments in DNA, online searching and records digitization. Only time will tell how advances in these areas will advance your research.
From the January/February 2015 Family Tree Magazine.
Last updated: June 2021