Sign up for the Family Tree Newsletter Plus, you'll receive our 10 Essential Genealogy Research Forms PDF as a special thank you!
Get Your Free Genealogy Forms
"*" indicates required fields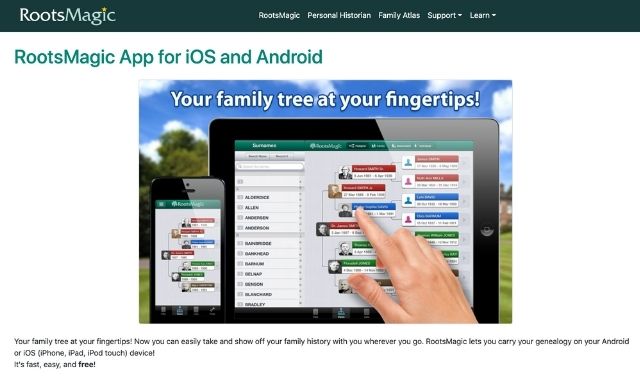 Ease of use
The RootsMagic app is easy to use. You can access all the functions from four links at the bottom of the screen—File, View, Lists and Tools. Date, relationship and Soundex calculators are under Tools. A perpetual calendar is included as well, but it didn't work in our tests. For help using the app, there's a tutorial webinar, FAQ and message board.
The mobile app works only with files from RootsMagic version 4 and later. If your family file is in a different format, you can use the full RootsMagic or the free RootsMagic Essentials program to convert other genealogy files, such as Legacy Family Tree, older versions of Family Tree Maker and GEDCOM. To copy your RootsMagic file to your mobile device, use Dropbox or iTunes for iOS. You can keep multiple RootsMagic files on your mobile device and the app can access them without an internet connection.
Editing your file
The app is designed as a tool for viewing your RootsMagic files; it doesn't let you add or edit data.
Viewing your family tree
The app lets you explore your family tree in pedigree, family, descendant and individual views. Note that you can't rotate a view. Pedigree view shows three generations on a device with a small screen and four generations on a larger screen. Tap on the left and right arrows beside a name to move up and down your family tree. Tap on a name to see the person's details. On my small screen, the names are tiny, and sometimes the chart shows a person's first and middle names, but not the last name. It may show years of birth and death, or just one or the other.
Family view shows a couple, their parents and their children. There's no indication here if some of the children are one parent's with another spouse. Individual view lists events in chronological order, with personal events followed by family events. Pedigree, family and individual views show a picture for each person, if you've added one. Pictures display in the proper proportions in individual view, but appear squished in family and pedigree views. Descendants view makes it easy to quickly jump to a descendant, even a few generations away.
In addition to names in your family file, you can view lists of sources, to-do items, media, addresses, repositories, correspondence and places.
Photos, citations and documents
Just like the RootsMagic software, the app lets you view sources, notes and media for people, families and facts. Sources and notes show complete details from your family file, including specific citations. The app displays small thumbnails of your pictures, not the full resolution copies, so it's not a good tool for viewing family photos or source documents.
Searching
When you browse for a name in RootsMagic on your computer, it shows all the names in alphabetical order. The app works a little differently: Click on the magnifying glass in the top-right corner. Select a surname, then a full name. The RootsMagic app doesn't search online databases of historical records or family trees.
The verdict
Whether you use the full RootsMagic software or the free RootsMagic Essentials, the mobile app is a handy way to take your family file wherever you go. Though you can't edit your tree, view full-size photos or search databases, the app gives you access to all your family names, dates, places, notes and sources. That makes this free app a worthwhile tool for most RootsMagic users.
A version of this article appeared in the September 2015 issue of Family Tree Magazine.