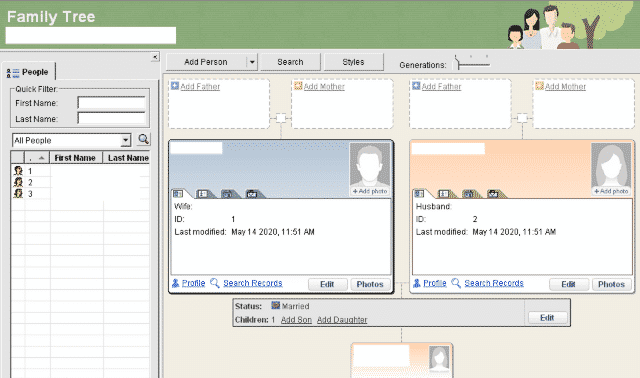 Family Tree Builder Overview
Price: Basic version (unlimited offline tree plus up to 250-person, 250 MB online tree), free; Premium plan (up to 2,500-person, 500 MB online tree), yearly fee; Premium Plus plan (unlimited tree size and storage), yearly fee
Manufacturer: MyHeritage
System requirements: Windows XP or newer; Mac OS X
Demo/trial version: MyHeritage website
Biggest draws: Ease of use, photo management, charts, online tree publishing, automatic online searching, support for 40 languages
Drawbacks: Reports, source documentation
Ease of use
Well-designed screens and menus make Family Tree Builder easy to navigate. The innovative slider lets you adjust the number of generations displayed from three (like a family view) to four or five (a pedigree view). Hover over a name to see a window with details on that person. Take advantage of a Quick-Start Wizard and PDF user guide for help.
File management
To ease transferring media when you share a GEDCOM file, Family Tree Builder puts copies of associated multimedia files in a separate folder. However, you can't specify how many generations of ancestors to include in a GEDCOM, and you can have only one family file open at a time.
The Smart Match Merge Utility, lets you merge information and photos when you find matches in other MyHeritage trees. The new Tree Consistency Checker scans your family tree for possible mistakes, such as children born before their parents and inconsistent name spellings.
Charts and multimedia
The photo manager rivals Family Tree Maker's. Drag and drop photos, documents, audio and video within and between albums. In a group photo, associate faces with specific names.
MyHeritage partnered with Generations Maps for outstanding chart and poster printing. Choose a chart type and style, as well as size, font, borders and backgrounds. Save as a PDF, or order a professionally printed copy.
Documentation and publication
Family Tree Builder has a no-frills system for documenting sources. There are no customized templates for citing different kinds of sources, such as census records or deeds. You can reuse sources, but there's no quick way to apply a specific citation to multiple people. Furthermore, citations in family group sheets and narrative reports don't include page numbers.
You can publish family trees, pictures and videos on MyHeritage.com, and you can save an online tree to your computer as a backup. The slickest new feature is syncing. As you make new discoveries, it's now easy to keep an online family tree in sync with the one on your computer. Use Family Tree Builder to add photos, sources or new names to the file on your computer, and all the changes will be reflected in your online tree. Likewise, make changes in your online tree and they'll be replicated in your computer file. You can also edit your online tree using a free mobile app. However, you can't save reports in HTML for publishing to your own website.
Searching
No matter what software you use, take advantage of Family Tree Builder as a tool to access genealogical collections on MyHeritage.com. Once your tree is online, the site automatically searches for information on your family, looking at people in your tree and the 1.3 billion names in other family trees on the site. The Record Matching tool finds matches in historical records, including US census records from 1790 to 1940, gravestones and newspapers from NewspaperArchive, as well as English census records and civil registration indexes. To access most of these, you need a MyHeritage Data Subscription or credits (5,600 credits valid for 180 days).
The verdict
Family Tree Builder makes it easy to organize your family history, share it online and search a huge collection of historical records and family trees. Even if you use another program, it's worthwhile to add Family Tree Builder as additional software to access the online collections on MyHeritage.com.
Versions of this article appeared in the January 2010, July 2011, July/August 2012 and January/February 2014 issues of Family Tree Magazine. Updated: October 2021
Related Reads