Sign up for the Family Tree Newsletter Plus, you'll receive our 10 Essential Genealogy Research Forms PDF as a special thank you!
Get Your Free Genealogy Forms
"*" indicates required fields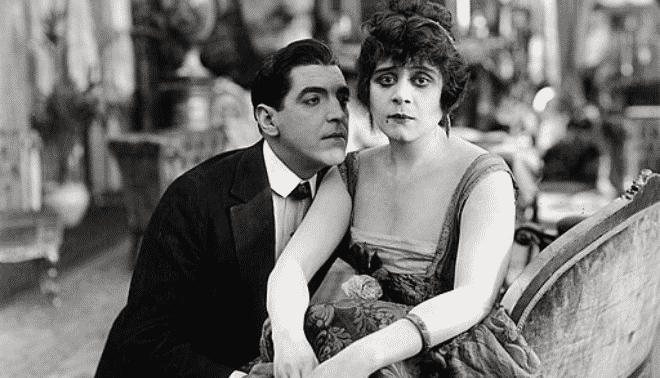 Think Tom Cruise, Henry VIII or Pocahontas is your long-lost relative? Most families have stories about celebrity connections — from presidents to military heroes, cowboys to Hollywood starlets. There's something special about claiming a famous cousin, even if your relationship is so remote you need to use all your ringers and toes to figure it out.
Though seldom will you find a relationship through a shared surname, anyone could have celebrity kin. Usually, you'll find a connection only after following the twisting, turning branches of your family tree and your famed forebear's. But after some research, you might find you really did descend from a world-renowned artist or a signer of the Declaration of Independence.
Keep an eye out for the black sheep, skeleton or scoundrel lurking in your family's past, as well. Even illustrious family trees grew a few less-than-perfect progenitors. For instance, Walt Disney, famous for family entertainment and Mickey Mouse, is a sixth-great-grandson of the Rev. George Burroughs, an accused witch hanged in 1692. While sometimes hard to swallow, these bad apples spice up our pedigrees, and make great family legends.
Whether you're related to the revered or the reviled, you'll follow a similar path to uncover stardom in your pedigree. You'll consult the same kinds of resources that you'd use to trace "ordinary" kin, focusing in particular on secondary sources. After all, many famous folks' family trees already have been thoroughly researched — especially historical icons'. So you may not have to start from scratch: You can use earlier research as a springboard for your own. That's one method I used in tracing famous people's ancestries. To uncover those star-studded pedigrees, I also relied on a few more basic sources and strategies — which you can use to find your own claim to fame.
Jump to:
Finding Famous Ancestors
Investigating Family Legends
Researching Original Records
Researching Secondary Sources
Our Celebrity Family Trees
Finding Famous Ancestors
Shared Surnames
A shared surname is by far the most common reason people think they're related to celebrities. While this is possible, finding a connection usually isn't that simple. After all, if actress Elizabeth Taylor were your first cousin, you'd definitely know it.
Another reason why the same name doesn't necessarily point to a relationship, at least with those in the arts, is that many performers have changed their names. They decided the original wasn't "Hollywood" enough, or it was too hard to remember or pronounce. Director Penny Marshall's family name was Marsciarelli; rock legend Bob Dylan's was Zimmerman. (For more stars' birth names, visit Celebrity Real Names.)
Shares Places
You also might find that you (or your parents or grandparents) grew up in the same town as a celebrity. Hometown heroes are shouted from the rooftops. Genealogical and historical societies often have extensive research on their families. When singer and actress Rosemary Clooney returned to her hometown, Maysville, Ky., to marry Dante DiPaolo in 1997, the town welcomed her back with open arms. The Mason County Genealogical Society published a history of Clooney's family and their ties to Maysville, including a detailed genealogy. Of course, since Rosemary was actor George Clooney's aunt, this means anyone researching George Clooney's ancestry has a head start on his paternal side.
Investigating Family Legends
How do you prove a family legend? As with any research, you must know your subject. For instance, people often tell me they descend from George Washington. But this just isn't possible. While he apparently "slept" everywhere — if you can believe all the "George Washington slept here" signs in historical homes — the only children Washington had were his wife's from her first marriage. He never fathered children of his own, at least none that have been proven. But tracing your ancestry back to the early Colonial days could reveal many famous cousins, including a president or two. Perhaps Washington is one of them.
Another common legend is that an ancestor witnessed a historic event, such as the Wright brothers' first flight. If you know which ancestor supposedly was there, you can compare his life dates with the date of the event. Was your ancestor even alive when the Wright brothers took off from Kitty Hawk, NC?
Perhaps your family claims an ancestor lost her life aboard the Titanic, or she decided at the last minute not to board the ill-fated ship. This story is easy to verify because so much information has been published about the event, including the passenger list (see Encyclopedia Titanica). Other major events, such as battles, major disasters and epidemics, might have similar lists.
A popular, but impossible, family legend claims descent from a Cherokee princess. The problem? The Cherokee Nation didn't have royalty. Many families believe they have American Indian ancestry, but find no proof. Of course, if your family claims American Indian blood — or any other ethnic heritage — you'll want to investigate. Perhaps in your case the family story is true.
If you can, get the story down on paper. Seeing problems with family lore is often easier when it's staring back at you. Make copies of the written story. On one copy, highlight names, dates and places mentioned in the legend. On another sheet of paper, make a timeline. Include information about your ancestor as well as the celebrity in question. You might divide the paper in half and list your ancestor's life events on one side and the celebrity's on the other. Creating a timeline often brings the loopholes immediately to the forefront.
Researching Original Records
Once you've found background information about the celebrity, you can turn your attention to census, vital, land and other genealogical records. Just be sure to look up the correct name. As discussed earlier, famous people often change their names, so when you're looking for records, search for both the birth name and the celebrity name. When composer Irving Berlin came to the United States, he Anglicized his birth name, Israel Beilin. When I searched for his birth name on Ellis Island's website, I found him listed as a passenger on the SS Rhynland from Antwerp, Belgium, to New York City, arriving in 1893 with his family. Had I searched for only his celebrity name, I'd have missed this information.
Researching Secondary Sources
In genealogy, the rule of thumb is to work from the known to the unknown. When researching a famous actor or a long-deceased historical icon, you probably won't have access to birth certificates and other family documents. So you must look to published resources for preliminary information about the person. The goal is to find enough identifying facts, such as date and place of birth and parents' names, so you can move on to more traditional genealogical sources, including vital and census records. Start with these secondary sources to build your knowledge base:
Biographies
I've seen some outstanding genealogical information included in biographies, sometimes going back three or four generations. Good biographies cite the sources that were used to compile the information in the book. When I read birth, marriage and death dates, I pay close attention to the footnotes or endnotes to see where the information came from. Source citations make finding original records considerably easier.
But watch out for inaccuracies. I've seen biographies compiled solely from information found in interviews with the celebrity. While you'd think that interviews would be accurate, people often misquote dates. It's always a good idea to check the facts.
In addition to the more traditional published biographies, you can find online biographies. These usually appear on fan sites, but I've found some scholarly articles online, as well. Graduate students often publish their papers after submitting them to professors. Such articles may cite valuable records and resources.
Family Histories
Though many family histories are now online, enabling us to peruse them at our leisure, these publications can be double-edged swords. They're compiled by family historians of all experience levels, and sometimes overzealous researchers publish too early, trying to force a round ancestor into a square pedigree. Unless you take time to evaluate the information in a family history, comparing it to original records, you run the risk of perpetuating the error.
Some family histories leave out famous relations, even though they belong in the family and were famous at the time of publication. When you conduct research in a family history, then, it's important to look not only for the famous individual, but also for his or her parents and grandparents. You never know where in the line the compiler stopped.
Also keep in mind that family histories might ignore infamous ancestors or hide what were considered shameful details of their lives. For example, some family histories written in the late 1800s or early 1900s won't mention witchcraft accusations.
County Histories
Genealogists use these publications frequently, but not always efficiently: Many county histories published in the late 1800s, often referred to as "mug books," weren't indexed. While county histories generally include a biographical dictionary of the more upstanding townspeople, you may find it tough to locate those mentioned in the rest of the volume — and there are many — without reading the entire book.
Check library catalogs for indexes to county histories. You also might find indexes to older county histories published online by volunteer projects such as USGenWeb.
Although genealogical societies have indexed many county histories, sometimes you just need to jump into the body of the book. Most county histories detail the founding of the county and towns, and describe some of the early settlers. The history often will jump from a picture of the county as a whole to a glimpse of each town's history. The town sections list elected officials, and indicate when churches and other societies and groups were established. They also list members of churches and fraternal organizations, plus early community positions such as clerks, police officers, sheriffs and teachers.
Directories and Biographical Dictionaries
Since 1899, Marquis Who's Who directories have chronicled the lives of high school students, women, professionals and people in various regions of the country. Entries in these thick, red books — available at many public libraries — usually give the subjects' dates and places of birth, their parents' names, their spouses' and children's names, the educational institutions they attended and their employers.
Similar to Who's Who directories, biographical dictionaries are often written in a more narrative style, with less abbreviation. They're typically devoted to a given occupation or ethnic background, and may also focus on a specific town, county or state. To find biographical dictionaries, you might need to visit your ancestor's old stomping grounds. Check with public libraries and archives, as well as genealogical and historical societies. Consult The Genealogist's Address Book, 4th edition, by Elizabeth Petty Bentley (Genealogical Publishing Co.), Ancestry's Red Book: American State, County & Town Sources by Alice Eichholz (Ancestry) or The Handybook for Genealogists, 10th edition (Everton) to learn where records are kept in the locality you're researching.
The Biography and Genealogy Master Index (BGMI), published annually by Gale Group, indexes biographies in Who's Who and similar publications. You can find the index at some public libraries and at the Family History Library in Salt Lake City.
Wilson Readers' Guide to Periodical Literature
The last time you used this collection of green books, you probably were working on a high school or college research paper that required you to use multiple sources, including magazines. While the Wilson Readers' Guide to Periodical Literature is often a more effective resource for researching historic events, it has led me to useful interviews in magazines such as People, Time, Life and American Heritage. You can find printed versions at most public libraries.
Periodical Source Index (PERSI)
While I use the Readers' Guide to find mainstream magazines, I turn to PERSI when I need genealogy periodicals. The Allen County Public Library (ACPL) in Fort Wayne, Ind., designed PERSI to help genealogists find magazines and journals with information about a specific surname, locality or record type.
A few years ago, Ancestry.com formed a partnership with the ACPL and published PERSI on CD-ROM. Now, Ancestry.com makes PERSI available as part of its US Records subscription.
Newspapers
When reading newspapers, genealogists always look at the obituaries. These usually mention valuable details such as when the deceased settled in the area; where he lived; and what his parents', siblings' and children's names were — including daughters' married names. And luckily for today's genealogists, many newspapers now publish obituaries online. When looking for a celebrity or someone associated with a celebrity, check Obits.com or use a search engine such as Google to find online obituaries: Type in the deceased's name, followed by obituary.
Of course, there's a lot more to newspapers than just the obituaries — they detail the lives of the famous and infamous. To identify a community's newspaper, consult the Gale Directory of Publications and Broadcast Media, available at libraries. Then, find out if the newspaper's available on microfilm or microfiche by checking Newspapers in Microform. This directory will tell you who carries the microfilm and microfiche — usually state libraries, archives and historical societies.
Many newspapers now have online versions, as well — though you usually can read only current issues for free. But you can access archives through subscription services such as Paper of Record, Accessible Archives, Ancestry.com, NewspaperArchive.com and others.
As you research, you might make surprising discoveries. Would you have guessed that horror writer Stephen King has a connection to the Pillsbury Doughboy (well, the flour company's founders)? Or that actress Elizabeth Montgomery, famous for her lead role on the television series "Bewitched," is Lizzie Borden's sixth cousin? So don't be afraid to shoot for the stars when you seek out the celebrities and skeletons in your own family tree. Maybe you'll find that a connection to Tom Cruise or George Clooney isn't so far-fetched.
Our Famous Family Trees
If you're ready to dive into searching for your famous ancestors, we have serval articles that can serve as introductory guides.
Last updated: March 2021