Sign up for the Family Tree Newsletter Plus, you'll receive our 10 Essential Genealogy Research Forms PDF as a special thank you!
Get Your Free Genealogy Forms
"*" indicates required fields
The RootsMagic genealogy software has a major feature for working with Ancestry.com: TreeShare. TreeShare lets you synchronize ("sync") your RootsMagic family tree data to your family tree on Ancestry.com.
When using TreeShare, people, events, source citations, notes and pictures transfer seamlessly between the data you enter into your RootsMagic software and your online tree at Ancestry.com—and vice versa.
One advantage of this feature is that you'll have two up-to-date copies of your family tree. If you use TreeShare to save your Ancestry.com trees with their attached records to your computer, you'll retain access to the records even if you let your Ancestry.com membership lapse. But keep in mind that Ancestry.com trees aren't compatible with RootsMagic's to-do lists, research logs or media attached to places or sources, so it isn't a complete backup of your RootsMagic file.
RootsMagic also has a WebHints feature, which automatically searches Ancestry.com's extensive collections of family trees, records and photos for matches to your ancestors. RootsMagic also provides searching of FamilySearch, Findmypast and MyHeritage. This makes RootsMagic a research hub for all the largest genealogy websites.
RootsMagic Essentials, the free version of the program, lets you upload your family file to Ancestry.com, download an online tree from Ancestry.com and get new WebHints. But you'll need the paid version to fully sync your tree between RootsMagic and Ancestry.
Here's how to sync RootsMagic and Ancestry.com family trees. Note that you'll have to start by either creating a new RootsMagic file of an Ancestry.com tree, or a new Ancestry.com tree exported from a RootsMagic file; you can't sync existing, unpaired RootsMagic and Ancestry.com trees. We'll discuss each in turn, then how to update both trees once you have them synced.
Uploading a RootsMagic Tree to Ancestry.com
Open an existing RootsMagic file from your desktop, then click the Ancestry.com icon at bottom left. (It looks like a three-pronged leaf.) Then sign in to your Ancestry.com account as prompted.
From there, you'll see this screen:
"Upload and Connect" allows you to upload a RootsMagic file and attached media from your computer to a new tree on Ancestry.com. Give the new Ancestry.com tree a name and make it either Public or Private.
Downloading an Ancestry.com Tree into RootsMagic
Open RootsMagic, then select New File from the main menu. (You can also select Download from an Online Tree, then Ancestry.) Choose where on your desktop you want the new file to live, and confirm the file's name and settings. If you opt to create a tree from scratch via Empty File, scroll down and click the Ancestry.com icon.
Sign in to your Ancestry.com account when prompted, then click Download and Connect. You'll see a screen that lists all the family trees in your Ancestry.com account—those you've created, or those others have shared with you. Select one, then click Download Ancestry Tree.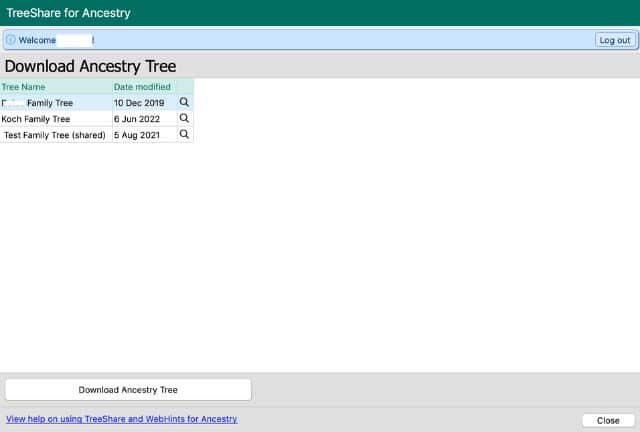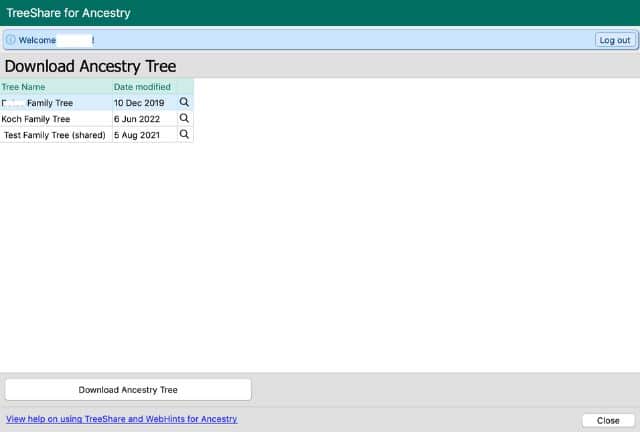 Syncing Between RootsMagic and Ancestry.com Trees
Regardless of which path you chose, TreeShare operates the same way. Once a RootsMagic tree and an Ancestry.com tree are synced, the TreeShare screen compares data entries in the two and allows you to rectify. You can also access links to editing that person's profile on either site.
Fields in green are the same between the two trees, and yellow indicates a discrepancy. Discrepancies have a small arrow next to them; click the arrow on the RootsMagic side to update the event as written in that tree, and click the arrow on the Ancestry.com side to do the reverse.
When a new person appears in either your RootsMagic file or Ancestry tree, you have several options:
link that person to someone in the other file
add him or her as a new person in the other file
delete the person from the original file
Your relatives using RootsMagic with TreeShare can collaborate on an Ancestry.com tree. After the initial upload or download, each user's RootsMagic file is synced with the Ancestry.com tree. As users edit their own RootsMagic files or the Ancestry.com tree, TreeShare lets you decide whether to add the changes to your RootsMagic file.
While TreeShare makes it easy to copy events and sources from a Member Tree to RootsMagic, keep in mind that Ancestry.com's source citations are generally nonstandard and less detailed, and its place names don't match RootsMagic's standardized ones. TreeShare saves time, but if you want high-quality citations and consistent place names, you're better off creating them yourself than importing ones generated by Ancestry.com.
A version of this article appeared in the September 2017 issue of Family Tree Magazine. Last updated in August 2022 to reflect the release and functionality of RootsMagic 8.
Related Reads