The RootsMagic 7 genealogy software has a major feature for working with Ancestry.com: TreeShare. TreeShare lets you automatically synchronize ("sync") your RootsMagic family tree data to your family tree on Ancestry.com.
When using TreeShare, people, events, source citations, notes and pictures transfer seamlessly between the data you enter into your RootsMagic software and your online tree at Ancestry.com—and vice versa.
One advantage of this feature is that you'll have two up-to-date copies of your family tree. If you use TreeShare to save your Ancestry.com trees with their attached records to your computer, you'll retain access to the records even if you let your Ancestry.com membership lapse. But keep in mind that Ancestry.com trees aren't compatible with RootsMagic's to-do lists, research logs or media attached to places or sources, so it isn't a complete backup of your RootsMagic file.
RootsMagic also has a WebHints feature, which automatically searches Ancestry.com's extensive collections of family trees, records and photos for matches to your ancestors. RootsMagic already provided searching of FamilySearch, Findmypast and MyHeritage. The addition of searching for Ancestry.com records and syncing of family tree data makes the program a research hub for all the largest genealogy websites.
RootsMagic Essentials, the free version of the program, lets you upload your family file to Ancestry.com, download an online tree from Ancestry.com and get new WebHints. But you'll need the paid version to fully sync your tree between RootsMagic and Ancestry.
1. In RootsMagic, select TreeShare for Ancestry from the internet menu.
This adds an Ancestry.com button to the toolbar. From now on, click that button to start TreeShare. If you already have both a RootsMagic tree and an Ancestry.com tree, you have to choose one of them to share. (You can't synchronize an existing RootsMagic tree with an existing Ancestry.com tree.) TreeShare gives you two options: Upload and Connect or Download and Connect.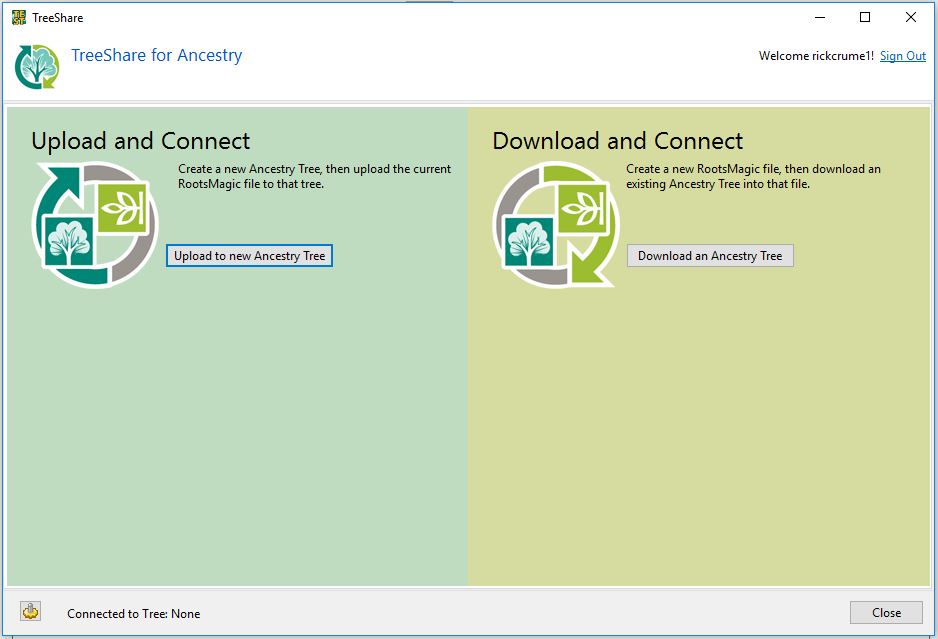 2. If you want to upload your RootsMagic tree, select Upload and Connect.
This allows you to upload a RootsMagic file and attached media on your computer to a new tree on Ancestry.com. Give the new Ancestry tree a name and make it either Public or Private.
3. If you opt to copy an existing Ancestry.com tree into a new RootsMagic file, select Download and Connect.
Select a Tree Name from the list of your trees and trees others have shared with you, then click on the Download Ancestry Tree button. You'll be prompted to create a new RootsMagic file. After selecting the options you want for the file, click the OK button to download the tree and media.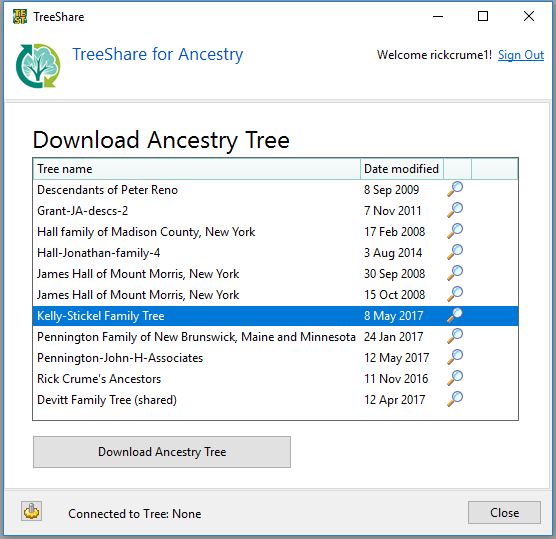 4. Bold icons beside names in TreeShare indicate discrepancies between your RootsMagic file and the Ancestry.com tree.
You can check the Only Show Changed People box, then select a person's name to compare the two versions. Click on a box beside a changed event to accept or reject it. For example, you might see a 1900 census event in a relative's Ancestry tree profile, but not in the RootsMagic file. Click on the box beside the event and a pop-up window lets you either add it as a new event in RootsMagic or delete the event from the Ancestry tree.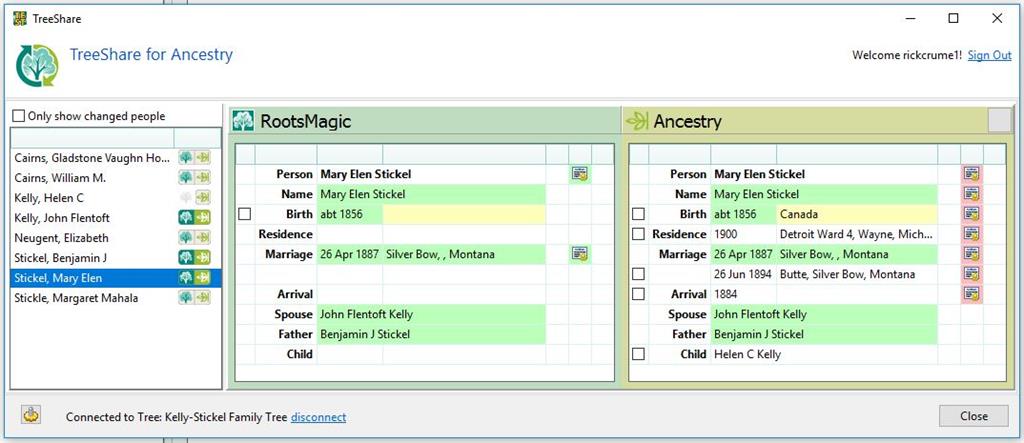 5. When a new person appears in either your RootsMagic file or Ancestry tree, you have several options.
You can choose one of three options:
link that person to someone in the other file
add him or her as a new person in the other file
delete the person from the original file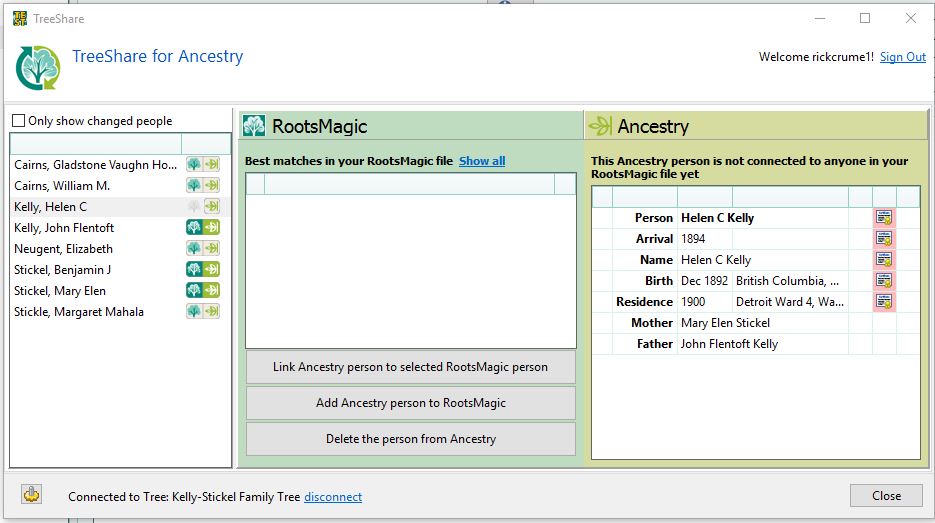 Your relatives using RootsMagic with TreeShare can collaborate on an Ancestry.com tree. After the initial upload or download, each user's RootsMagic file is synced with the Ancestry.com tree. As users edit their own RootsMagic files or the Ancestry tree, TreeShare lets you decide whether to add the changes to your RootsMagic file.
While TreeShare makes it easy to copy events and sources from a Member Tree to RootsMagic, keep in mind that Ancestry.com's source citations are generally nonstandard and less detailed, and its place names don't match RootsMagic's standardized ones. TreeShare saves time, but if you want high-quality citations and consistent place names, you're better off creating them yourself than importing ones generated by Ancestry.com.
A version of this article appeared in the September 2017 issue of Family Tree Magazine.
Related Reads