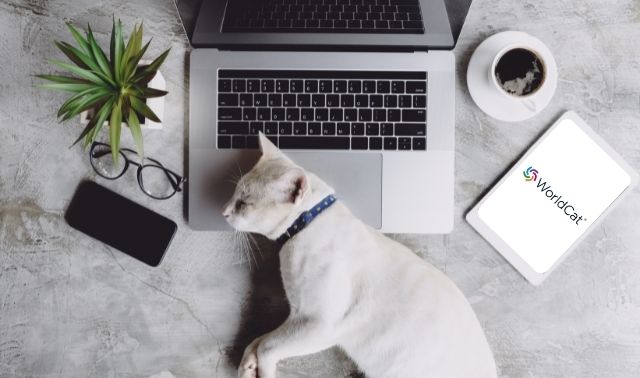 What is WorldCat?
Once you start using WorldCat.org, you won't be able to keep your paws off it. Touted as the world's largest library network, this mega-catalog lets you claw through 2 billion items — including genealogy-related books, articles, maps and documents — in 72,000 repositories, making it easy to locate a library that has the items you want. Then just request them through interlibrary loan to use at your own library.
To order a book or another item via inter libraryloan, you'll have to contact your local library. Or if you want to buy the book new or used online, click the online retailers listed on the Get a Copy window to the right. Another slick WorldCat feature is the Bookmark link that saves your search.
On WorldCat, you can also set up a profile to create your own bibliographies, review materials, and more.
Written by Dana Schmidt, from the May 2007 issue of Family Tree Magazine
How to Search WorldCat
WorldCat catalogs all items in library catalogs, not just family history materials, so try adding history or genealogy as a search keyword here. Use the basic search to find keywords anywhere in a catalog entry. Click Advanced to also search for words in titles and authors, and to narrow your search by publication year, format (archival material, book, map, etc.), and other terms.
The Details tab tells you the document type (video, book, article) and has a section where you can view and post notes or a table of contents. Under Reviews, read other people's opinions and ratings of the item (though few materials appear to have reviews yet). If you register — it's free — you can add your own comments and edit others' reviews.
Model your search after this example:
1. Enter your query
Search on a last name plus the word family to find genealogies and family papers. If the name is common, add another term, such as a place, to focus on the most relevant matches.
Keep in mind that catalog descriptions don't usually list every name in a book or manuscript, just those of the individuals and families treated most prominently. Searching on first and last names doesn't often produce good matches, but you might get lucky.
If you're searching for a specific item, click on Advanced Search to do an Author or Title search. You can limit matches to just manuscripts by selecting Archival Material as the Format.
Search on the name of a town, county or state plus the word history to find local histories. To locate indexes, abstracts and transcriptions of local records, search on a place name along with the word genealogy or a record type: Bible, court, directories, immigration, wills. Try other terms, too, such as occupations, ethnic groups, and the names of religious, hereditary and fraternal organizations that might pertain to your family.
We're researching a family from Napoleon, Ripley County, Ind., so we'll enter the keywords Napoleon Indiana History into the basic search.
2. View matches
One promising search result is the book Napoleon & Vicinity: Sesquicentennial, 1820-1970: Historical Souvenir.
The results screen lists the most relevant matches first. If you get too many irrelevant matches, narrow your search by adding another search term in the Search box on this screen.
Each entry includes title, description and type, such as book, archival material (manuscript), journal, article or database. If it's an Internet resource, there will be a link to the website.
Click on the title to view more information on the item.
3. View a detailed record
The listing shows copies at libraries from nearest to farthest to the ZIP code you enter. Scroll down for a more-detailed description of the book. In the Subjects section at the top of the listing, click on Napoleon (Ind.) History to run a search for books and other items assigned to the same subject.
Scroll down for more details, and you'll find that this item consists of 13 boxes of correspondence, legal documents and business papers. The detailed catalog description lists 35 authors of these papers and 49 subject terms. Most libraries are less diligent in cataloging their holdings; typical entries will be briefer.
Once you find promising materials, you have several options for accessing them. WorldCat automatically identifies your location and tells you the closest libraries that hold each item. If you can't visit the library, you can request an interlibrary loan or copies of specific pages through your public library.
For a book, try Google Books, Internet Archive, the Brigham Young University Family History Archive or HeritageQuest Online (accessible through a subscribing library) to see if you can view the entire tome online for free. Books—in original or reprint form—also might be for sale on Amazon, AbeBooks or Heritage Books.
Written by Lisa A. Alzo (October/November 2014) and Rick Crume (July 2010)
FamilySearch and WorldCat
Two indispensable genealogy resources joined forces in 2014, resulting in a win for genealogists wanting to access offline family history research materials. FamilySearch and OCLC (the Online Computer Library Center) reached an agreement to list the holdings of the FamilySearch genealogy catalog in WorldCat.
Under this partnership, OCLC incorporates data from FamilySearch's catalog into WorldCat, and FamilySearch uses OCLC cataloging services to continue to catalog its collections in WorldCat. FamilySearch also incorporates WorldCat results into search results returned by FamilySearch genealogy services.
The combined catalogs save you research steps: Instead of searching WorldCat for family and local histories and other sources, then searching FamilySearch for genealogy records, you can run a search at either site for results from both.
That makes it easier to see when a library near you holds copies of Family­Search's genealogy resources—including printed books at the Family History Library (FHL) in Salt Lake City, which FamilySearch doesn't circulate to its local FamilySearch Centers.
A version of this article appeared in the May/June 2013 issue of Family Tree Magazine.
Updated: July 2021
Related Reads