Sign up for the Family Tree Newsletter Plus, you'll receive our 10 Essential Genealogy Research Forms PDF as a special thank you!
Get Your Free Genealogy Forms
"*" indicates required fields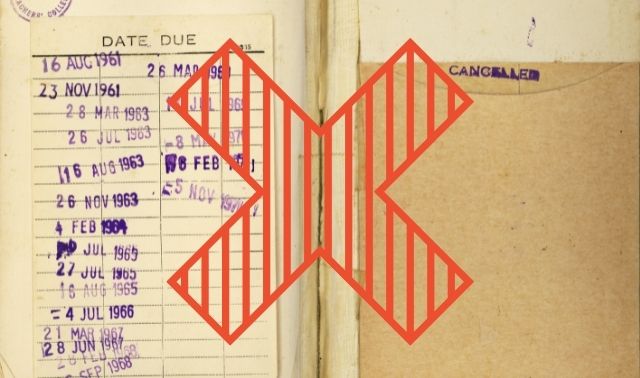 As much as we'd like to, it isn't always possible to check out that family history book from the library or borrow a copy through interlibrary loan. Unlike books by Stephen King or J.K. Rowling, most genealogy books don't have thousands of copies in libraries around the world. Some books are literally one-of-a-kind.
That's why titles in genealogy departments tend to be restricted to in-house use—they don't circulate. If that book were to get lost, the librarian can't just jump onto Amazon and order a new copy.
That's when, unfortunately, genealogy librarians have to send a letter like this:
Dear Mr. Bookborrower,

Thank you for asking about borrowing our copy of The Bookborrower Family in America. Unfortunately, we cannot let it out of the building.

With the exception of genealogy how-to books and general history books, nothing in the genealogy and local history department circulates. All items must be used within the library.

The book does have an index and we would be happy to do a quick look-up in it. We can also provide copies of some pages. (Unfortunately, the book is still under copyright, so we cannot copy the entire book for you.)

Let us know if there is a name we could look up for you.

Sincerely,

Your Genealogy Librarian
But this isn't to say that there aren't ways to access that book. Here are some suggestions:
1. Check to see if the book has been digitized online.
Fortunately, there are many different tools available that can help you find digitized books. Some popular ones include Google Books, Internet Archive, Digital Public Library of America and the FamilySearch Family History Books collection. For Google Books, be sure to make use of the Advanced Book Search option and fill in as much information as you can. For example, if you have an idea of when the book was published, you might zero in on a specific year range.
2. Search for the title online.
You might get lucky and find a copy of it somewhere else online. Even if the book is out of print, it could still pop up on sites like Amazon and AbeBooks.
3. Give WorldCat.org a try.
WorldCat.org is also an excellent tool for finding genealogy books. It gives you access to thousands of library collections, both locally and globally. Because WorldCat is such a plentiful source, you will want to word your queries carefully. For example, if you are looking for a certain name, include the word family and even a specific location in your search. Also be sure to provide your zip code so that your search yields the libraries closest to you.
4. Use the FamilySearch Catalog.
Although FamilySearch discontinued its microfilm loaning service, a staggering 2.4 billion rolls have been digitized. Search the FamilySearch Catalog to see if the book you're looking for is among their collection. When searching for your book, be aware that the FamilySearch Catalog allows you to search many different categories, including keyword, place, surname, author and subjects. You can even combine searches to optimize your results.
5. Request photocopies.
Even if the book hasn't been digitized or microfilmed, your situation isn't hopeless. Most libraries offer a copy or scanning service for a small fee. They might not be able to copy the entire book, but they could copy the index or table of contents. That would give you a starting point to work with.
6. Hire a researcher in the area.
It'll likely cost you more than the copy charges from the library, but it might be faster than the back-and-forth involved with requesting the index and then copies of specific pages. If you don't know of a researcher in that area, contact the local genealogy society. Most maintain a list of researchers and some offer their own research service.
Of course, you also could go to the library yourself. Chances are if it has one book you need for your research, it also has several more you need! It isn't always possible to go in person, but if you can go, it'll likely be a worthwhile investment of your time.
Updated: May 2022
Related Reads