Sign up for the Family Tree Newsletter Plus, you'll receive our 10 Essential Genealogy Research Forms PDF as a special thank you!
Get Your Free Genealogy Forms
"*" indicates required fields
In this article:
Resources for Genealogists Page
Access to Archival Databases (AAD)
U.S. National Archives, Regional Facilities & Presidential Libraries
The U.S. National Archives (NARA) is the custodian for billions of records, many of them available to genealogy researchers. Not all of NARA's records (most of which were generated by the federal government) are available online, but the organization has published some collections and record sets on its robust website, Archives.gov. Among its digitized resources are indexes, finding aids and actual record images, some of which can't be found anywhere else online.
The NARA website is so large that I find something new every time I go there, either about my family or about an historical event that took place where I live. That makes it one of my top places to visit, and I'd recommend every researcher bookmark it.
Here's how to get around the Archives.gov website—and what you can find there.
Archives.gov Homepage
Like most sites, Archives.gov links to several key features from its home page. Some highlights include:
Research Our Records, a portal to the National Archives Catalog, NARA research guides and more
Veterans' service records, which visitors can request copies of
Digital scans of America's founding documents, including the Constitution
At top-right, find links to various NARA blogs, as well as a "Contact Us" page. Or scroll down to find various "quick links" to different parts of the site, including landing pages for genealogists and an A-to-Z index of the site.
Click the "Research Your Ancestry" box to view a curated page of family history resources. You'll find quick links to popular topics (such as censuses and military records) and information about genealogy-related events. Scroll down to find badges for "Ask Genealogy Questions on History Hub" (to get advice from experts) and "Order Copies of Records."
The "Start Your Genealogy Research" link serves up a page full of introductory materials. Included are:
a PowerPoint presentation and links to YouTube videos that describe key record sets and research strategies related to NARA
lists of helpful genealogy books (such as Ancestry's The Source: A Guidebook to American Genealogy, edited by Loretto D. Szucs and Sandra H. Luebking)
links to guides at other websites like the New England Historic Genealogical Society and FamilySearch
The Getting Started column, at left, has even more links, including to several charts and forms and summaries of what collections have been digitized by partners like Ancestry.com. Find a directory to staff-written research guides under "Genealogy Research Topics."
Archives.gov Search
The NARA website has a sitewide search feature. But, unlike at other genealogy sites, you can't really search digitized records by an ancestor's surname. Instead, NARA's search produces results from collection descriptions, research guides, and various NARA publications and blogs.
A general NARA search can still be useful for your research, despite likely not producing information about individual ancestors. Here are a couple tips:
Search by place name to see what collections or research guides might be available for the place(s) your ancestors lived.
Search by subject or event. For instance, if the Tennessee Valley Authority (TVA) built a new dam that flooded the place where your ancestor's lived, there could be documents related to the TVA relocating your family.
Toggle between search options. On a results page, you can direct the search engine to cover just Archives.gov, the collections of presidential libraries, images, or "Everything."
Run a surname search anyway—you never know what you might find.
Using Catalogs and Indexes
With such a vast network of resources, NARA has created separate databases that can better help you find collections relevant to your research.
The NARA catalog contains descriptions for collections that cover about 95 percent of documents held by NARA, its regional branches, and presidential libraries throughout the United States. You can narrow search results by several categories, including data source, record group, date, type of material and file format. Learn more about using the catalog (including through helpful videos).
AAD allows users to search through more than 250 million unique records and indexes. (Believe it or not, that number represents less than 1% of NARA's total holdings!)
Some records that are represented in the AAD are:
Combat casualty records from the Korean and Vietnam Wars
Prisoner of war records from World War II and the Korean War
Immigration records for 19th-century Italian, Russian, Irish and German arrivals
No search engine is foolproof, and you may need to search an individual database to have luck finding an ancestor. Records you find here might also lead you to other NARA documents.
NARA has a separate catalog dedicated specifically to its vast collection of microfilms. The Microfilm Catalog (from this link, then click the Microfilm tab) can show you where to access NARA's miles and miles of microfilm, some of which has images of records that haven't yet been digitized. You can search by microfilm publication number, record group number or title, or the name of the collection. You also have the option of browsing the Microfilm Catalog, though this can quickly become overwhelming.
In general, libraries and archives create finding aids to give researchers a box-by-box, folder-by-folder description of records. The finding aids at NARA do just that, allowing you to easily determine what records are contained in each collection. Find them in the catalog or by searching a surname or other subject name.
You'll find the most relevant information under "Contents Listing." Finding aids often have several sections, so make sure you read the whole thing to avoid missing crucial information.
Good genealogy practice dictates that you receive a copy of a record as close to an original as possible. Fortunately, through NARA, you can order copies of records—either a record you found yourself online or one that an archivist will find for you—for a fee. You'll need to fill out different forms for different types of records; find them here.
Be as specific as you can in your request.
For fastest results, order online and request a digital copy be emailed to you. (However, you can mail a paper form and request a physical copy.)
Double-check the record price, which will be listed on the form.
Anticipate a wait. Archivists are busy, especially because of a backlog of requests due to COVID-19!
There is a clickable link at the top of the NARA website main page that simply says "Blogs". Clicking on that link will take you to a page filled with 19 different blogs they publish. Anyone can subscribe to any of the blogs listed to get up-to-date information on the subject covered by each blog. These blogs share news, upcoming events and proposed projects from the NARA. A great way to keep up with new records sets becoming available on the NARA website.
U.S. National Archives Branch Locations
We've already discussed how vast NARA's online presence is. But that's only a small percentage of its physical holdings, which you can only access in person or by requesting record lookups.
NARA operates regional facilities (as well as presidential libraries), each with their own website and areas of expertise. Some are just as robust as the main NARA site, full of genealogical and historical records and resources for you to discover.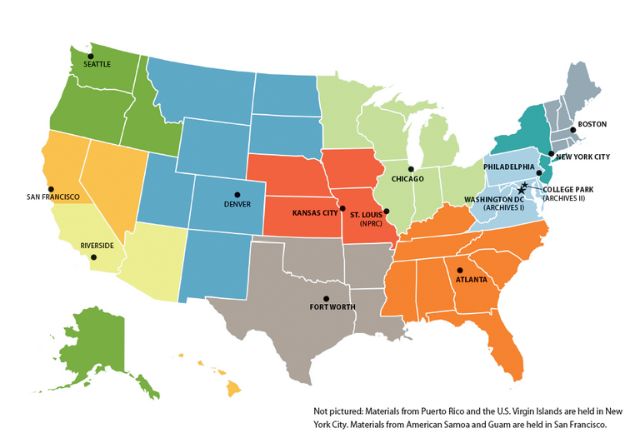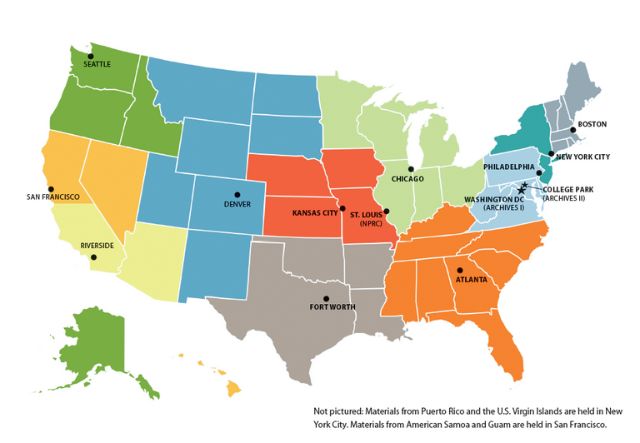 The map above labels NARA's 12 regional branches, plus the main NARA complexes in Washington, D.C., and College Park, Md. The map does not include presidential libraries or federal record centers, which are also operated by NARA.
Regional facilities hold custody of records from that state as well as nearby states—indicated in the map above by different colors. For example, the National Archives at Ft. Worth holds records from the states in grey: Arkansas, Louisiana and Oklahoma, in addition to Texas. The exception is NARA's St. Louis location, which houses nationwide records for members of the US military and federal civilian employees. (Missouri records are held by the Kansas City facility.)
Note: Archival materials from some states are held by multiple NARA branches. For example, California and Nevada are split between the Riverside and San Francisco branches. North and South Dakota are held at Kansas City and Denver, while Minnesota is at Kansas City and Chicago.
Regional Archives include:
National Archives at Atlanta, Georgia
National Archives at Boston, Massachusetts
National Archives at Chicago, Illinois
National Archives at College Park, Maryland
National Archives at Denver, Colorado
National Archives at Fort Worth, Texas
National Archives at Kansas City, Missouri:
National Archives at New York City, New York
National Archives at Philadelphia, Pennsylvania
National Archives at Riverside, California
National Archives at San Francisco, California
National Archives at Seattle, Washington
National Archives at St. Louis, Missouri (the National Personnel Records Center)
15 Presidential Libraries throughout the United States:
Herbert Hoover Presidential Library and Museum
Franklin D. Roosevelt Presidential Library and Museum
Harry S. Truman Presidential Library and Museum
Dwight D. Eisenhower Pres. Library and Museum
John F. Kennedy Presidential Library and Museum
Lyndon Baines Johnson Presidential Library and Museum
Richard Nixon Presidential Library and Museum
Gerald R. Ford Presidential Library
Jimmy Carter Presidential Library and Museum
Ronald Reagan Presidential Library and Museum
George Bush Presidential Library and Museum
William J. Clinton Presidential Library and Museum
George W. Bush Pres. Library and Museum
Barack Obama Pres. Library (Not Open to the Public)
First Fully Digitized Presidential Library
Donald J. Trump Presidential Library
The NARA website is so large that every time I go there, I find something new about my family or about an historical event that took place in the area where I live. Genealogists should use the NARA website anytime they are looking for information on their ancestors and the areas where their ancestors lived.
Last updated, July 2022. A version of this article appeared in the September/October 2022 issue of Family Tree Magazine.
Related Reads