Sign up for the Family Tree Newsletter Plus, you'll receive our 10 Essential Genealogy Research Forms PDF as a special thank you!
Get Your Free Genealogy Forms
"*" indicates required fields
Women ancestors' identities are frequently hidden in the shadows of their married names. It happens in both written sources and pictorial ones. Case in point: The caption for this picture, part of its Library of Congress catalog record, neglects to mention the names of the woman and children.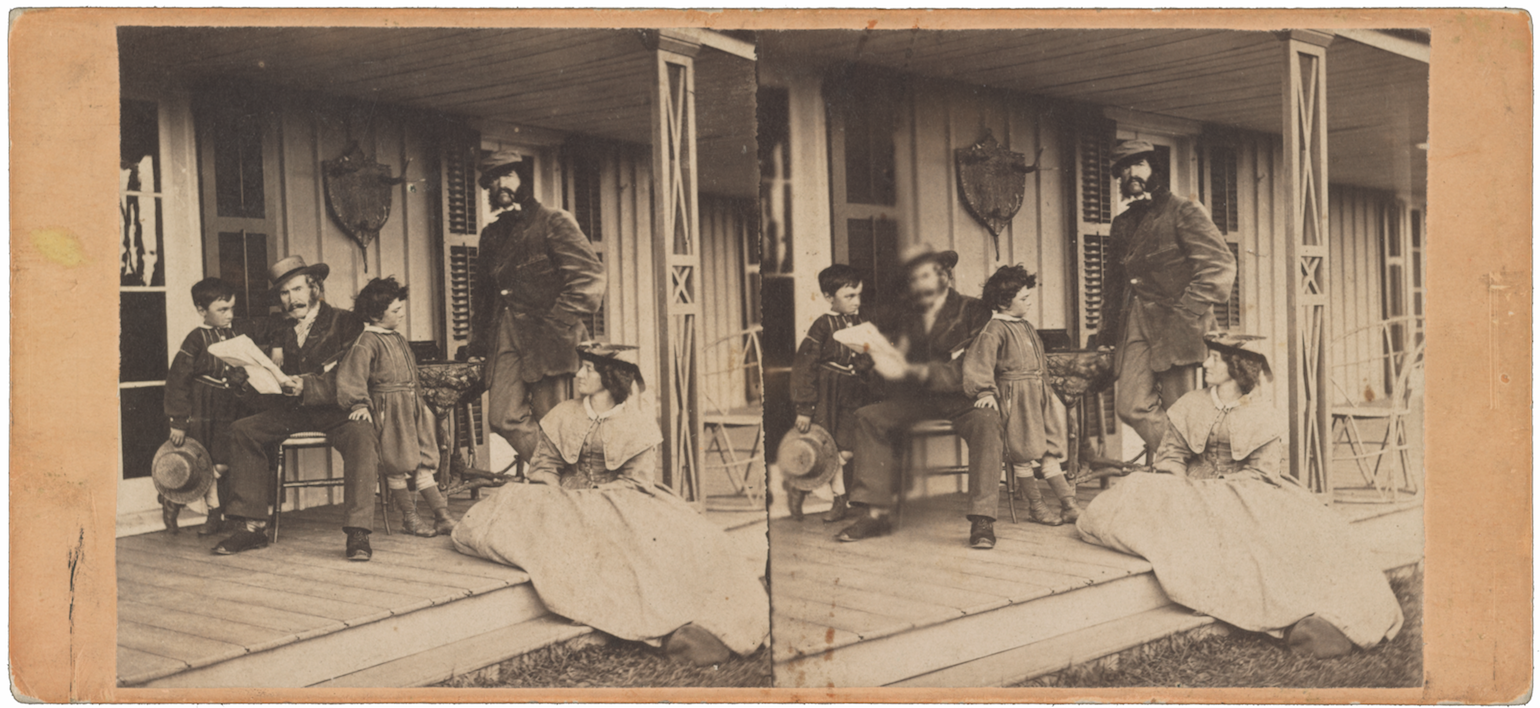 These men are James William Wallack (1795-1864, seated) and his son Lester Wallack (1820-1888), prominent members of the New York theater community. The picture was likely taken between 1860 and 1864, according to the Library of Congress.
The photograph is a stereoscope, two slightly different images meant to be seen through a special viewer called a stereopticon, for a 3-D effect. These images were first produced around 1854, and they usually show scenes and landmarks, not people.
The photographer, George Stacy, operated a studio in New York from 1854 to 1861. He traveled the country, taking stereograph images to sell as souvenirs. Remember, a mystery photo doesn't give you all the clues you need to identify it. Sources from your research can help verify the information available from the image itself, and provide candidates for the unknown faces shown in the photo.
Verifying the identities of the men is easy. A Google search for James Wallack turned up online mentions and more images of him.
The beginning time frame for the photo makes the 1860 census a good starting point to research this family. It shows James Wallack with 6-year-old Charles Wallack, a druggist of a different surname, two servants and a waiter. This census doesn't state relationships, so we can guess but can't assume that James is Charles' grandfather.
Elsewhere in that same census is "J.L." Wallack, age 40, in New York City, along with Emily, 31; Arthur, 12; Florence, 10; Charles, 6 (possibly double-enumerated); Harrold, 5; and other potential relatives. A decade later in 1870, the household of "John" Wallack (Lester was a stage name) included Emily, Charles, Harry, Florence and several servants.
The woman in the photo could be attached to either man, but because the 1860 census doesn't list a woman in James' household, I tend to think she's Emily—though she may be another member of this acting family. An identified photo of her would help with this question. Let this be a lesson: When labeling photos, always include a woman's birth name in addition to her married name.
Stereographs usually show scenes rather than people. It's possible photographer George Stacy took this image for resale, rather than as a picture for the family.
Stacy took photographs all over the country. The exact location of this image is unknown. Though the Wallacks lived in Manhattan, this may be a house they were visiting.
Because cardstock mount colors came into and went out of vogue, they can help establish a time frame for an image. Take care, though: This is an ivory-colored card that has simply yellowed with age.
This dress features a small collar typical of the early 1860s.
Fashionable women often sported jaunty hats rather than bonnets in the time frame of this image.