Sign up for the Family Tree Newsletter Plus, you'll receive our 10 Essential Genealogy Research Forms PDF as a special thank you!
Get Your Free Genealogy Forms
"*" indicates required fields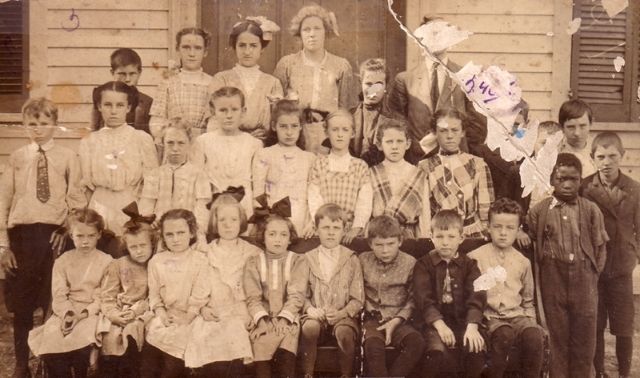 In addition to being a regular Family Tree Magazine column, Photo Detective was also a long-running blog hosted on our website by Maureen A. Taylor for several years. Here, we've combined some of her best posts from the past.
September means schools are in session for another year of reading, writing and arithmetic. Today's students learn a lot more than the basic three subjects. Topics taught and student life bear little resemblance to your ancestor's school year.
It's a good thing many families documented school days in pictures. We can compare the pictures of the past with those taken today. There are similarities, of course: A little kid going off to his very first day of grade school has always been a milestone moment.
You'll find class portraits. Your great-grandfather might sit in the crowd with an x above his head to identify him, leaving you wondering about the names of other students. Those photographs tell the story of your ancestor's education.
Turns out mystery school pictures aren't that unusual. Here's an assortment of past Photo Detective blog posts featuring students and teachers:
One of my favorites is this little girl and a woman in a dotted shirt that dates from around 1900. It's evidence that this little girl attended some sort of school (of course this could be her piano teacher). When you're researching your family it's easy to overlook records relating to ancestral childhoods. School records are a great way to find out just where you got your talent in math or in my case, my poor handwriting.
---
3 Tips to Locate Ancestor School Photos
For the first three years of grade school, I went to class in a 19th-century building. A big wide staircase and a classroom cloak room stick in my mind. That building is long gone, replaced by a modern school. I've search for a picture of the original structure to see if my memories of it compare to how it actually looked.
Finding images of the schools my family attended is a good beginning to understanding their classroom experience, and it helps flesh out my family story.
Depending on when and where they lived, the school could be a one-room schoolhouse or a massive brick-and-mortar city school.
If your ancestor attended school in Nebraska, count yourself lucky. The Nebraska State Historical Society added images to the American Memory Project of the Library of Congress. This one is a sod school, District 62, 2 miles west of Merna, Custer County, Neb., in 1889.
In this picture, you can see the backwards writing on the bottom edge of the original glass plate.
According to the cataloging record, in 1974, someone identified the teacher in the middle as Elsie Thomas who married a Bidgood. One of the girls in the back row, second to the left of the teacher, is Nettie Hannawald. There is another picture of Nettie online as well.
1. Look online
Search the Library of Congress for pictures of schools in places your ancestors lived. Choose "Photos, Prints, Drawings" from the dropdown menu at the top, and type search terms such as Merna Nebraska school.
Then expand your search to Google images. A quick search for history of public school architecture Grand Rapids resulted in a lot of hits including an online article and photo essays for Grand Rapids, Michigan.
2. Check newspapers
In a town where I once lived, an old schoolhouse is now a bank, but I learned a lot about the building form old newspapers. In the 1930s, some members of the town balked at installing indoor plumbing. The old outhouse was good enough, they said.
Search newspapers looking for school information:
You might locate information about the school building.
Merit student lists in the paper could mention your relative
There might be an engraving or a photograph published
3. Ask the locals.
Public libraries and historical societies often have pictures of old school buildings. Check the library or society website for a collection of digital images. Include school yearbooks in your search.
Let us know what you find on our Facebook page!
---
Family History Q&A: Finding School Photographs
Q: I want to find school pictures and other pictures of my Jackalow family, who came over to Ellis Island in 1914. How can I track them down?
A: If you're looking for school pictures of your relatives, you first need to establish where and when they attended school. According to Kathleen Hinckley's book Your Guide to the Federal Census (Betterway Books), US census schedules began reporting school attendance in 1840. The census will provide you with proof your ancestors attended school and will tell you where they lived at the time. Some localities also took separate school censuses.
In order to start your search for class pictures, contact the school district or the particular school your relatives attended to see if it maintains an archive or sent its pictures and records to another repository. One woman found a photograph of her ancestor attached to his school records, so look for more than portraits. Once you've found the pictures, continue searching for your ancestor's school progress reports.
You're looking for photographs taken in the 20th century, so don't overlook published yearbooks as a resource. They can provide you with a portrait as well as interesting information about your ancestor's hobbies and nicknames. Researchers looking for class photos of 19th-century ancestors might get lucky, too: The earliest school pictures date from 1840, when Samuel Morse took a group portrait of the Yale University graduating class.
Check historical societies for yearbooks that might contain photos of your ancestors. These photos appeared in a West Night High School yearbook in the Cincinnati Historical Society's collection.
If you're trying to find general photographs of the Jackalow family, try contacting other relatives or searching for the name in online search engines and photo-reunion websites such as DeadFred.com. Posting your request on genealogical message boards can also yield fruitful results.
A version of this article appeared in the December 2002 issue of Family Tree Magazine.
---
British Schoolboy Uniforms
Just like the boys and girls at Hogwarts, British students wear distinctive uniforms and caps. You can identify the school by the color and design of its outfit, as well as the badges worn on students' blazers.
There's some minor variation in caps depending on which house (a kind of division) a student belonged to, or which level of school he attended (such as grammar school, or what Americans call high school). That's right—the competitive houses of the Harry Potter books are based on the real thing. In English private schools, students belong to houses and compete against each other in sports just as Harry, Hermoine and Ron do.
Family Tree Magazine reader Catherine Hamilton submitted this photograph of her grandfather John Porter with his schoolmates and tutor.
Here's a close-up of Porter; he's the one in the back row standing sideways with his hand in pocket and no cap:
Hamilton knows that John Porter (1881-1937) attended school in Manchester, England, and she thinks this image was taken at Chetham's School (now Chetham's School of Music). This photo was taken in the early 1890s, based on Porter's age and appearance.
A search for photos of the school using Google Image Search suggests these boys aren't students there. Chetham's is historically a "bluecoat school." During Porter's student days, the school's pupils wore long, cassock-like blue uniform coats, a tradition dating back centuries.
Related Reads