Sign up for the Family Tree Newsletter Plus, you'll receive our 10 Essential Genealogy Research Forms PDF as a special thank you!
Get Your Free Genealogy Forms
"*" indicates required fields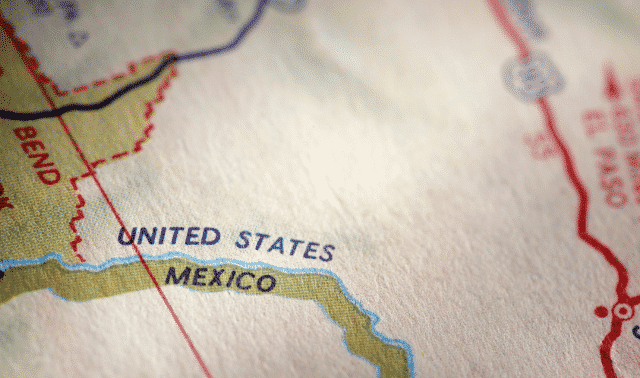 Entry laws tightened today for those crossing the US/Canadian or the US/Mexican border on land—now you must have a passport or an acceptable equivalent to get across.
It's a bit more of a hassle, but at least future genealogists will have records. Plenty of our ancestors immigrated, then up and moved across the border. Some went back and forth several times.
Border-crossing records start later than ship passenger lists. Here's a rundown of what's available:
Canada to the United States
Many immigrant families arrived through Canadian ports, and some settled for a time in Canada before moving to the United States. The US government didn't keep records on these "border crossers" until 1895, when it realized about 40 percent of immigrants to Canada planned to end up in the United States. Then joint US-Canadian immigrant inspection created two sets of records: passenger lists and inspection cards. The passenger lists contain traditional manifests, as well as monthly lists naming aliens who crossed the border, usually on trains.
The US Immigration and Naturalization Service's Montreal district centralized records from all ports in its jurisdiction at its headquarters, which originally was in Montreal and later moved to St. Albans, Vt. (that's why you'll hear these records called "St. Albans lists"). This district includes US border entries at Michigan, Minnesota, Montana, New York, North Dakota and Washington, with geographic coverage varying by year:
1895-June 1917: All border crossings
June 1917-July 1927: Crossings east of the North Dakota/Montana state line
After July 1927: Crossings east of Lake Ontario
Like US passenger lists, Canadian border-crossing records have been indexed using Soundex, a system that groups similar-sounding names together. You'll find the microfilmed cards and lists at the National Archives and Records Administration (NARA), its regional facilities and the Family History Library (FHL). The lists are on NARA microfilms M1465, M1461, M1462, M1463, M1464 and M1465. To find the records in the FHL catalog, do a keyword search for Canadian border entries.
They're digitized in the subscription site Ancestry.com's immigration collection, too.
Written by Sharon DeBartolo Carmack
This information appeared in the 2005 Family Tree Sourcebook.
United States to Canada
Ancestors crossing to Canada weren't recorded until April 1908. Even then, those considered returning Canadians, or who crossed where ports didn't exist or were closed, weren't listed. Library and Archives Canada has records; see the Canadian Genealogy Centre for information. They're also on Ancestry.ca.
Mexico to the United States
Microfilmed records for ancestors who entered the United States from Mexico—which includes many Asians, Syrians and South Americans, as well as US citizens returning home—start as early as 1903 at some ports. Records begin later for other ports. NARA has an online guide and list of film. These records also are on Ancestry.com.