Sign up for the Family Tree Newsletter Plus, you'll receive our 10 Essential Genealogy Research Forms PDF as a special thank you!
Get Your Free Genealogy Forms
"*" indicates required fields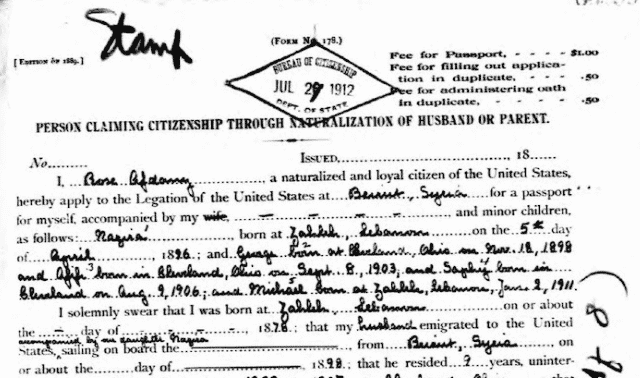 Many Americans traveling internationally today don't give much thought to the passport requirement; it's simply what's necessary to travel beyond the borders of the US. However, retaining a passport to travel abroad was not always a requirement, and our ancestors often came and went during most of American history, pre-WWII, without a passport. Until 1941, it was only during brief periods during the Civil War and WWI that a passport was mandatory. However, if our ancestors did apply for a passport, the information found therein could be the key to overcoming the place of origin brick wall. An American passport confirmed American citizenship. As such, naturalized immigrants were more prone to retaining one even when they didn't need one, as it provided tangible proof of citizenship.
The case study of Rose Aftoura
Rose (née Abalin) Aftoura (also spelled Aftoora & Afdany) immigrated to the USA from Le Havre, France, in 1898 with her husband, Brahim ("Abraham"), and their first child. They landed in New York City, but would settle shortly after in Cleveland, where Abraham worked as a peddler. They had three more children in Cleveland, and returned to Syria in 1907. They had one more child in Syria, and Abraham died between 1910 and 1912.
Hunting for a place of origin
We can learn a lot about Rose and her family through various documents, especially the censuses. They were storekeepers and eventually fruit dealers. They bought a home on West 14th Street in Cleveland between 1920 and 1930, and many of Rose's children continued to live with her until at least 1940. However, no other place of origin more specific than "Syria" was ever mentioned, including on Abraham's naturalization paperwork (completed before 1906, the year naturalization records became much more information heavy).
Answers in a passport application
Thanks to Rose's application for a passport, however, filed with the Consulate General of the United States at Beirut (then Syria/Ottoman Empire, now Lebanon), we can ascertain a place of origin for Rose and her foreign-born children, in Zahleh (Zahlé), Lebanon. The passport application also allows us an insight into the family and their trip back to Syria – when they returned, which children were born where, the fact that Rose was widowed while there… Had Rose applied just a few years later, the application would also be accompanied by a photo of both her and all of her children.
Tracking down passport applications
The Department of State has made US passport applications available from 1795 to March 1925 through the National Archives; these have been digitized at Ancestry.com. For applications after April 1925, one can send a FOIA (Freedom of Information Act) request to the Department of State.
The passport application does not tell us the birth location of Abraham. However, we can infer by their immigration together as a family in 1898 that they were married in the old country. As such, the first logical step would be to determine whether Rose and Abraham were married in Zahlé, Rose's birthplace.