Sign up for the Family Tree Newsletter Plus, you'll receive our 10 Essential Genealogy Research Forms PDF as a special thank you!
Get Your Free Genealogy Forms
"*" indicates required fields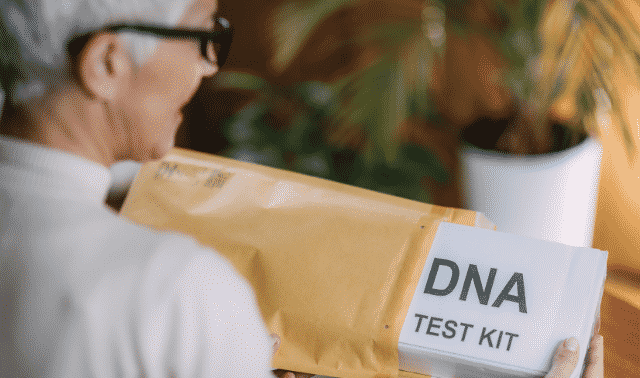 It's been about 20 years since the first consumer genetic tests for family history hit the market. This puts the DNA testing industry well into an exciting—and turbulent—adolescence. Companies are working hard to establish unique identities, choose appropriate peers, set lofty goals and outgrow awkward blemishes. You can see them changing their looks and becoming more sophisticated. It's a time of transition, experimentation and opportunity.
In recent years, one type of DNA testing has reached "Most Likely to Succeed" status: the autosomal test. Its affordability and applicability to all branches of a family tree makes it an all-around popular choice with millions who have tested already.
Let us introduce you to the top five autosomal test providers for the Class of 2018. Some you already may know. At least one is a "new kid" you'll want to meet. As you read over their profiles, don't worry about which to vote "most popular" or "best-looking." Instead, consider which test would help you meet your next genealogy goal—the one you'd vote "most likely to assist with your family history research."
Diving into the gene pool
DNA testing for genealogy has been around since 2000, but early options were somewhat limited. In those days, you could take a mitochondrial DNA (mtDNA) test to look at your maternal-line ancestry; and if you were male, you also could take a Y-chromosome (Y-DNA) test to trace your direct paternal line. Family Tree DNA led the market ahead of companies including Oxford Ancestors and Gene­Tree. The latter company sold its testing business to Ancestry.com in 2012. While still valuable today, these two kinds of tests have a glaring limitation: They leave out every ancestor between your direct paternal and direct maternal lines.
In 2007, the race officially began to create the best autosomal DNA test to give you information about all your genetic lines. California-based 23andMe, at the time a little-known company, released its DNA test with the goal of helping people "access, understand and benefit from the human genome." Test results included reports on genetic predisposition to over 90 traits. The test won an "Invention of the Year" award from Time magazine.
In May 2010, Family Tree DNA launched its Family Finder autosomal DNA test. Ancestry.com finally joined the ranks of autosomal testing companies when it launched AncestryDNA in May of 2012, after the GeneTree acquisition.
Bringing autosomal testing into the family history world wasn't easy. Each testing company needed to do four important things:
hire a robust and reputable team of scientists
create a database of test results for matching
develop biogeographical (ethnicity) estimates
train web developers, customer service representatives and marketing teams to handle an entirely new product
Though they created similar products, each company had its own clear goals. 23andMe was intent on changing the way people saw their own healthcare. Family Tree DNA saw autosomal DNA testing as a natural addition to its already-powerful genetic genealogy arsenal. AncestryDNA wanted to integrate genetic data with its massive collections of digitized historical records and user-submitted family trees. Over the ensuing years, each company carved out its own piece of the autosomal DNA market. All have made updates to their original products, such as improving website interfaces, adding analysis tools and refining ethnicity estimates. For example, when 23andMe first launched its autosomal DNA test, its biogeographical ancestry report included only a handful of countries. The current version divides the world's population into 31 ancestral groups.
The relative equilibrium has recently been disrupted by new autosomal test offerings from Israel-based MyHeritage and British company Living DNA. The popularity of health interpretation services, including those from 23andMe, Promethease and LiveWello, has led to broader health information options for test-takers as well.
Our snapshots of the newest developments and unique features of the five top autosomal DNA testing services is current at press time. But because autosomal adolescence is fraught with such rapid changes, check each company's website and Lisa Louise Cooke's Genealogy Gems Podcast for up-to-the-moment features, limitations and prices for each test.
In an industry like this one, changes, updates, and developments are occurring at a rapid pace, and often people wonder if they should just wait for things to even out before they jump in. But if DNA testing is the direction you want to take your research, there's no reason to wait. Even in their adolescence, autosomal tests offer powerful tools to help build your family tree and understand your heritage. Databases are growing constantly, new tools are being added regularly, and current accounts are automatically updated with improvements. So you can start today and grow—along with the entire industry—into the advancements we'll see in genetic genealogy's adulthood.
23andMe
23andMe offers the second-largest test results database of its autosomal peers, with an estimated 2 million DNA samples. Its most remarkable feature, however, isn't how many are in this company's testing pool, but rather who they are. 23andMe attracts a different kind of clientele than the other companies, tending to serve more non-genealogists. This broader cross-section of consumers may help you locate "the One:" that genetic match who can help you solve your family history mysteries. But if that match isn't into family history, you may find yourself researching his tree as well as your own to determine where you connect. (It's a good thing you like genealogy.)
The most common updates these days to the 23andMe experience are new health reports. The Health+Ancestry test results include:
your genetic "carrier" status for more than 40 conditions (meaning you may not have the condition, but you could develop it and/or pass it on)
genetic insights on wellness indicators such as deep sleep and lactose intolerance
reports on your genetic risks for Celiac disease, late-onset Alzheimer's and Parkinson's diseases.
Health+Ancestry testers automatically receive new health reports as they become available.
For genealogy researchers, the biggest new addition came quietly in late November 2016: a new "time and place" table to help you better use your ancestral locations. This table shows you when you might expect to find a common ancestor in a given place. I found my estimates to be spot-on, with the exception of my British and Irish lines, which the site placed in the 1900s but should be in the 1800s. If your ancestral location estimates don't jive exactly with your tree or you see unfamiliar places, it may mean your ancestral connection exists further back in time than surviving records may document.
Another 23andMe feature that's key for tree connections is the Relatives in Common tool. If you and a genetic match both also match a third person, that person is a relative in common (you'll see them called shared matches on other sites). This tool shows you not just your estimated relationship to each of your matches (which the other sites also do), but also your matches' predicted relationships to each other. For example, let's say you match Bob and Mary each at the third-cousin level. Bob and Mary also match each other. At 23andMe (and also at MyHeritage, discussed on page 12) you can see Bob's estimated relationship to Mary. If Bob and Mary are siblings to each other, you'll evaluate their positions on your tree differently than if the two are second cousins.
AncestryDNA
One of the single greatest factors for success in your genetic genealogy endeavors is who else has tested. The DNA matches you're looking for are fellow descendants of your ancestors. To increase your chances of finding them, you'll want to consider the size of a testing company's database of DNA profiles when choosing where to test.
In this area, AncestryDNA has left its competitors in the dust. After taking three years to reach a million test-takers, the company topped 2 million in another year, then 3 million just over six months later. Between January and November of last year, AncestryDNA tested another 3 million customers. The AncestryDNA laboratories processed more than 9,000 tests per day, reaching 6 million total samples before Thanksgiving.
What does this mean for you? A higher chance of finding a match that could put names on your family tree where there's only blank space now. Even if that match isn't there today, he or she might be soon, since the database is growing so quickly.
AncestryDNA's new "opt-out" option allows DNA testers to withhold their test results from the match pool. Customers who opt out will get their ethnicity results, but they don't see their genetic matches and don't appear among anyone else's matches. This new option, which is similar to privacy settings offered by other DNA testing companies, has met with mixed results: It may keep nonresponsive matches or those without linked family trees (who may be less interested in genealogy) off your match list, but it also prevents those who opt out from being useful as shared matches. But the good news for genealogists is that AncestryDNA reports that overwhelmingly, people aren't opting out of matching.
Another relatively new, popular tool at AncestryDNA is Migrations (formerly called Genetic Communities). This feature identifies your ancestors who are associated with one of more than 300 genetically based communities in the years between 1750 and 1850. Such clues can help you recognize family migration patterns in the United States and overseas.
For example, learning that you have roots in the "Germans from Alsace-Lorraine in North Dakota" migratory group may give you a starting point in your search for the origins of your North Dakota ancestors. Furthermore, AncestryDNA will tell you which of your matches also appear in the same migratory group. You can network with them and examine their trees for clues to your shared roots. To access this feature, click Discover Your DNA Story on your AncestryDNA home page.
Family Tree DNA
Family Tree DNA continues to set itself apart as the only genetic genealogy testing company that offers a full range of mtDNA, Y-DNA and autosomal DNA tests (the latter is called the Family Finder test). You can transfer your autosomal DNA to Family Tree DNA for free (or for $19 to unlock the company's myOrigins ethnicity report), but you do need to test with Family Tree DNA if you want an mtDNA or Y-DNA analysis. Here's an update for each of the Family Tree DNA test types:
Autosomal: Family Tree DNA recently updated the myOrigins feature for its Family Finder autosomal test, adding seven new ancestral locations and revising two others. While still not reporting places with the specificity of the other companies, Family Tree DNA is continuing to put resources into its ethnicity information. Family Tree DNA is one of the two companies to offer a chromosome browser, which requires a bit of advanced knowledge to use effectively, but helps you identify pieces of DNA inherited from specific ancestors. Your Family Tree DNA test results also include information about X-chromosome matches, which can help you narrow which line contains your common ancestor with a match.
mtDNA: Mitochondrial DNA is passed from a mother to her children with few mutations. Therefore, an mtDNA test traces your maternal line back to ancient times. In March 2017, Family Tree DNA updated its mtDNA haplogroups. A haplogroup is a deep ancestral group that tells you where your mitochondrial line originated roughly 50,000 years ago. Ongoing research is better identifying little changes in DNA that indicate what stops your ancestral line may have made. If your mtDNA haplogroup changed, your new assignment was likely to a deeper, more specific haplogroup.
Y-DNA: Just as scientists and adventurers once braved unknown challenges to map the globe's terrain, scientists and genetic genealogy enthusiasts are endeavoring to chart the landscape of Y-DNA. As you may know, Y-DNA is passed from father to son, thus tracing the paternal line and, in most cases, following a surname through generations. Y-DNA testers can join Family Tree DNA's surname studies to help trace paternal lines.
On Oct. 6, 2017, Family Tree DNA announced updates to its "Big Y" test, which scans the entire Y chromosome for mutations (it's meant for men who've already taken a Y-DNA test up to 111 markers). Many people who choose the $500 Big Y test are trying to make connections at the edge of genealogical time (around the 1200s or so). Big Y results largely amount to a long list of numbers, requiring a lot of work by hand to significantly impact your family history research. Family Tree DNA has improved the features of the Big Y user interface, giving you more flexibility for viewing and analyzing your results.
MyHeritage DNA
MyHeritage began selling tests from Family Tree DNA in 2008, but didn't integrate the test-takers' results on the MyHeritage website. In 2014, the company began providing family tree support for 23andMe members, a partnership that's also since ended. MyHeritage launched its own autosomal DNA test in November of 2016. To quickly build its test results database, MyHeritage DNA lets you transfer raw autosomal DNA test results from other companies for free. (If you haven't already taken advantage of this offer, keep in mind it could end at any time.)
The MyHeritage DNA ethnicity origins report does just what most people want: It entertains them. The unique multimedia display combines a spinning globe with ancestral areas of origin and a medley of music specific to those regions. More valuably, the ethnicity estimate boasts 42 categories, including several distinct European categories like Greek and Baltic, three Jewish categories, and more East Asian categories than any other company. MyHeritage DNA also has promised to provide a chromosome browser, a much-desired analysis tool among genetic genealogists.
MyHeritage recently introduced improved matching to other test-takers in its database. Customers should see fewer false positives and more-accurate values for the amount of shared DNA with matches. This should fix the relatively high rate of discrepancies between the match lists of parents and their known children. Most users also saw a dramatic increase in the number of total matches they received, as well as new confidence intervals to help them prioritize their research on only the best matches.
The same update also added a chromosome browser, making MyHeritage one of only two companies (the other being Family Tree DNA) to offer this analysis tool.
Your MyHeritage match page features unique, helpful relationship suggestions. Where other companies indicate "predicted relationships" or "relationship ranges" for you and your matches, MyHeritage lists more options for possible relationships. For example, instead of a simple second cousin label, MyHeritage might more-specifically suggest "2nd cousin once removed, 1st cousin twice removed—2nd cousin." This change highlights two often-overlooked concepts:
A given relationship, such as siblings or first cousins, can share varying amounts of DNA. If you share 250 centimorgans of DNA with a match, for example, you might be a great-niece or -nephew; half first cousin; first cousin once, twice or three times removed; second cousins; or another equivalent relationship.
Your relationship to your match depends heavily on your relative ages. Say you're 70 and your match is 20. You're probably not simple second cousins (who share great-grandparents). More likely, you're once or twice removed.
Also on that main MyHeritage DNA match page, you can see genealogy integration tools at work. The most comprehensive one is the Smart Matches feature. If you have a family tree on MyHeritage, a Smart Match appears when MyHeritage identifies the same person on your tree and your DNA match's tree. Investigate this ancestor as the shared source of your DNA. Remember that Smart Matches are only as smart as the information in your tree. So, if a bunch of people have Marcus Moore in their trees, but none has verified that he's actually an ancestor, Smart Matches will declare that he's a common ancestor even if he's not.
Two of my favorite features of matches' profile pages both require a Data subscription to MyHeritage (without it, you get only a teaser):
Shared Matches: While all the DNA testing companies mentioned here show you matches that you and another match both share, MyHeritage and 23andMe are the only two that estimate your matches' relationships to each other.
Shared Ethnicity: This comparison of your ethnicities to those of your matches is most helpful if your paternal and maternal sides have different origins. For example, my grandmother's father was Welsh and her mother was Italian. I can see that her match, Jane, is 42 percent Welsh, and 0 percent Italian, so I can surmise that Jane is related on my grandmother's paternal line.
Living DNA
It was a surprise to many in the US genetic genealogy community when the UK-based company Living DNA, whose parent company DNA Worldwide Group provides paternity and other types of testing, launched its autosomal DNA test. The announcement met with warm welcome at the October 2016 Back to our Past family history conference in Dublin.
Living DNA's CEO and founder David Nicholson wants the company's test to reach beyond even the worthiest genealogy research goals. His greater dream is to show the world how humans are all connected, in the hopes of dissolving the concept of race and the negative effects of racism.
Initially, the Living DNA test didn't show test-takers their genetic matches. Instead, it provided three reports with information on ancestral origins for the person's Fatherline (Y-DNA), Motherline (mtDNA) and Family (autosomal DNA).
But in October 2017, Living DNA began accepting uploads of autosomal DNA test results from other companies, and announced that DNA matching on autosomal results was in the works. At press time, autosomal matching for Living DNA testing customers was slated to launch in April 2018, with matching for those who've uploaded results to follow in August.
At the same time, Living DNA launched its One Family One World project, with the ambitious goal of building a single genetic family tree. Anyone can join the project by purchasing a Living DNA kit. Discounts are available for those with all four grandparents born within about 40 miles of each other within certain regions. This enables the company to associate DNA with places.
Its focus on world regions and its unique approach to database-building via partnerships with academic institutions let Living DNA offer the most refined level of origins information currently on the market, at 80 ancestral locations. This easily beats the closest competitor, MyHeritage DNA. Twenty-one of those locations are in the British Isles, making this test a good choice for those with English ancestry. Similar ethnic breakdowns are planned for Ireland, Germany and elsewhere.
From the March/April 2018 issue of Family Tree Magazine.