Sign up for the Family Tree Newsletter Plus, you'll receive our 10 Essential Genealogy Research Forms PDF as a special thank you!
Get Your Free Genealogy Forms
"*" indicates required fields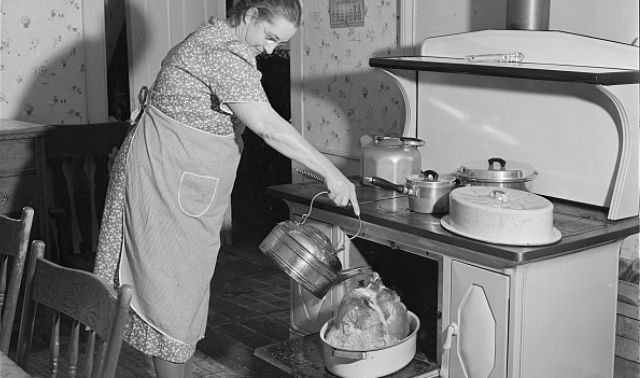 In addition to being a regular Family Tree Magazine column, Photo Detective was also a long-running blog hosted on our website by Maureen A. Taylor for several years. Here, we've combined some of her best posts from the past.
Buying the Thanksgiving turkey
This father, accompanied by his young son, went to pick out a turkey big enough for their family gathering. In the middle of the photo, the poultry farmer weighs a turkey on a scale. The two men on the right of the image may be buying that particular specimen. Behind them are a lot of turkey's already cleaned and ready for purchase. Doesn't look like they sell gravy and potatoes like the farm I used to go to though!
The Bain News Agency took this image around 1910-1915. It's a great everyday scene captured for a newspaper. The George Grantham Bain Collection at the Library of Congress contains thousands of images of newsworthy pictures.
This photo connects us to our ancestors. For years I visited a turkey farm to purchase the main course, but most nowadays get a frozen or fresh turkey from the grocery store. Our ancestors either shot one, took one from their own poultry stock or bought one in a setting like this. They were also available in city butcher shops.
While shopping is usually done by women in the family, from this image it appears that obtaining the turkey was man's work. It was usually Mom's job to pluck and clean the bird.
How to Document Your Thanksgiving Like a Newspaper Photographer
Preserve your Thanksgiving celebration by making like a news photographer:
If you buy your turkey at a farm, take a picture. That farm may not always be around. By doing so you're documenting a bit of local history.
I'm not sure how a grocery store would feel about you taking pictures as you shop, but imagine your grandchildren looking back on that image years from now. What would be familiar or foreign to them?
Using a video app on your smart phone, make a movie of a relative preparing a traditional side-dish or dessert. If they'd rather not be photographed, try zooming in on their hands and the ingredients.
Take pictures of guests. You can also delegate that responsibility to a younger member of the family, and have the child ask each person a family history question.
The StoryCorps Great American Thanksgiving Listen encourages families to share stories this holiday. You may be asked by a student in your family for an interview. If not, be the person to bring up family history!
---
A 1923 Thanksgiving tablescape
This 1920s table is set for a holiday meal. In 1923, the Underwood Co., publisher of stereoviews, sold this image. I'm not sure the intent of the picture, but perhaps it shows a model for our ancestors' idea of the perfect holiday meal.
You can tell a story with a single picture. What do you see in this image?
two chairs
two candles
two place settings
a turkey (or perhaps a large chicken)
a cloth table covering
a basket cornucopia of fruits and vegetables (the centerpiece)
Besides the table, this room has a hanging lamp, a couple of pictures on the wall and a combination sideboard/hutch (on the right). This picture gives us insight into the holiday festivities for this mythical couple. It's a time capsule of Thanksgiving in 1923. This particular image tells us that only two people were at dinner and that the turkey/chicken was the main part of the meal.
Have you ever taken a picture of your holiday table before everyone sits down? I have. It helps me remember what we had for dinner that year, how I decorated the table (now called a "tablescape" on the decorating shows), how many people came, and who brought what dish.
Colorize Old Pictures for a Look at Your Ancestor's World
It's easy to imagine our ancestors' world as black and white, but of course they were surrounded by color.
Here, we've uploaded the picture to see the comparison of the image in black and white, and color. In this case, the stark-looking setting becomes a warm dining room.
This isn't a professionally Photoshopped colorization with historically accurate shades, but it does enable you to quickly take a different look at your pictures. If you have family photos, use one of the many photo colorizing options available, such as Vivid-Pix or MyHeritage.
This Thanksgiving, take a break from the after-dinner clean-up and see how this site transforms your old family photos. The dishes can wait.
---
Thanksgiving shopping in old photos
This little girl is delighted with her Thanksgiving turkey but I'm not sure how I would have felt about carrying home a turkey complete with feet and head. Shudder! A lot has changed in our Thanksgiving prep.
The 1918 Fannie Farmer cookbook came with instructions on how to prepare poultry. My grandmother's likely bought birds like this and did everything from cutting off the heads to cleaning out the cavity. As a child I watched my father's mother singe off any remaining feathers from chicken whether they were present or not. It was a long ingrained habit and likely a cooking skill she developed early.
In addition to the turkey in this picture are a lot of clothing clues for the period. Take a good look at the girl's legs. She's wearing long leggings beneath her dress to keep her legs warm. In the background the woman looking at the action wears a plush (perhaps fur jacket) and wool hat decorated with botanicals (berries and branches). Her dress is a little long for 1919, but it fashion sense due to the cold weather.
Thanksgiving, 1919. [Photograph] (Library of Congress)
This young boy holds a thin but enormous turkey. He's worn jacket and pants suggest that he could be working at the market rather than buying something for his mother.
Neither child wears gloves! Wonder if either child got ill from handling raw poultry. They are unnamed in these photographs so researching their lives isn't possible.
---
Thanksgiving Day masquerade
It's easy to be confused by this photo from the Library of Congress. It's a group of children dressed in costume, but the photographer labeled it "Thanksgiving." The signage in the window advertising a traditional Thanksgiving meal of turkey, sweet potatos and cranberry sauce (for 40 cents!) supports the caption.
So what's going on?
According to Greg Young, author of the Bowery Boys: New York City History blog and podcast, this dress-up once was part of a Thanksgiving event. He wrote about it in a Huffington Post column.
There were plenty of street urchins in ragged clothes in New York City in the circa-1900 period. Young states that children dressed like impoverished youth was part satire and part of the history of "mumming." The latter term is associated with men who'd dress in costume and go door to door asking for food and money. In return they'd play music.
Long before Macy's began its Thanksgiving parade tradition, groups of New Yorkers in costume would march down the streets. You can read more about the traditions behind this photo combining Halloween-type dress and Thanksgiving in Young's article. If your ancestors lived in New York, perhaps they passed down a story or two about going door to door on Thanksgiving.
---
Don't Forget The Family History Essentials
When you think about what you're bringing to the Thanksgiving food fest, do you include your family history materials? I know that at my table, there will be a turkey with all the trimmings, but that along with feast there will be a dose of genealogy talk.
Here are some ways to introduce photo identification and family history into the conversation.
Bring photocopies of your unidentified pictures. Leave the originals at home so the copies suffer any gravy stains. Make an extra set of copies—one for notes and the other for showing off.
Put them in an album or just pass them around and see if anyone recognizes the scene or the people.
I recently bought a small digital voice recorder. It was an inexpensive purchase. If you have one, tape the conversation so you don't have to take detailed notes while everyone is talking.
If you're going to take pictures on Turkey Day, make sure your camera is in working order beforehand. Have you recharged the batteries? If you still use film, remember to bring along an extra roll.
Invite your family to participate in a social networking site, such as Facebook, and create your own group for the gang. My husband's family has done it. It's a great way to share pictures and keep track of everyone until the next gathering.
Share a Thanksgiving History Quiz with your students or genealogy group!
Related Reads