Sign up for the Family Tree Newsletter Plus, you'll receive our 10 Essential Genealogy Research Forms PDF as a special thank you!
Get Your Free Genealogy Forms
"*" indicates required fields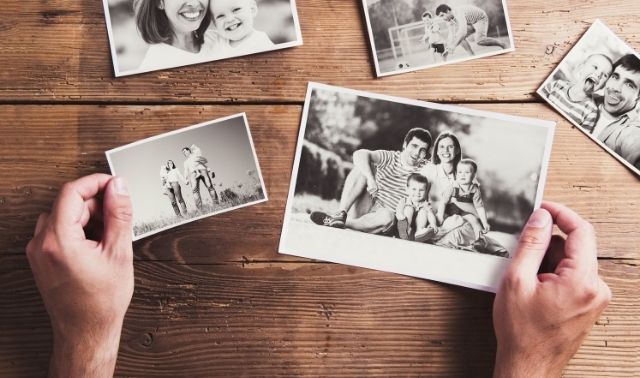 In this article:
Acrylic Gel Photo Transfer to Canvas
Family Photo Magnets or Necklace Pendants
Genealogists know there's more to family photographs than the chores of scanning, file naming and organizing images. We want to get those photos out of our hard drives and into family history projects that bring life to our ancestry and share our heritage with family and friends. Fortunately, the digital revolution makes it fun and easy to share photos—and details about them—in projects everyone will enjoy.
Pedigree Pennant Bunting
Invite your ancestors to the party with festive family bunting showcasing old images or more recent snapshots. This 30-minute project makes great decor for a birthday party, anniversary celebration or wedding.
Supplies
digitized family photos
computer with word processor and printer
ribbon or twine
Step 1: Choose one or more digital photos that will fit in the triangular bunting template and save copies in a folder on your desktop named Bunting.
Step 2: Open the bunting template in your word processor. Choose Insert>Photo>Picture From File and insert a photo as large as possible on the page. It will appear below the template.
Step 3: Double-click on the image (Control-click) on a Mac and Choose Wrap Text>Through (or Behind Text, depending on your version of Word) to move the photo on top of the template. Double-click or Control Click on the image again and choose Arrange >Send to Back, to place the photo behind the template. Adjust the photo to fill the pennant template.
Step 4: If you want to apply special effects to the image, such as soft edges or a color filter, double- or control-click and choose Format Picture.
Step 5: Print the pennant pages on cardstock. Cut out the pennant shape and score along the double line between the tab and the pennant. Fold over ribbon or string and glue. Repeat to make the bunting as long as desired.
Denise May Levenick
---
Family Reunion Photo Collage
Are family get-togethers growing so large that they've become a version of Guess Who? Help everyone match names with faces by making a quick family collage to print and post at your next reunion (and share beforehand). You also can upload it to a photo service to include in a photo book or other project.
Supplies
digitized family photos that show faces clearly
computer with internet access and printer
Step 1: Collect copies of selected digital photos in a desktop folder labeled Collage
Step 2: Go to PicMonkey website. (Close the promotional popup if you see one.) Hover your ouse over the Collage option at the top and choose Computer in the menu that appears below. Navigate to your photos and follow the prompts to upload them.
Step 3: In the editing menu on the far left, click the collage icon to view template options. Choose Square Deal, then click the template with a grid of 16 squares. Choose Photos (the picture icon) in the Editing menu and drag your images to the layout grid where you want them. Choose Open Photos to upload more photos.
Step 4: Click and drag each image until you like the placement. To enlarge images or adjust the exposure, hover your mouse pointer over the photo and click the Edit button in the top corner.
Step 5: Click the artist's palette icon in the editing menu to adjust the spacing between photos round the photo corners or change the background color.
Step 6: To add the title, click Edit collage in the menu bar at the top. This opens the collage in the editor. Click the text icon (Tt) and choose a font (I used Lobster Two). Click Add Text at the top of the font list. Type your text and adjust color, size and alignment.
Step 7: Add the name in the text box under each photo. Preserve the font and size by right-clicking or Control-clicking to copy a text box, then paste it under the next photo and replace the name.
Step 8: Close the text edit box and click Save in the top menu bar. Name the collage, select "Pierce" or "Sean" photo quality for optimal resolution, and click the green Save to My Computer button. Open the file and print or use in a photo project.
Denise May Levenick
---
Got Roots? Infinity Scarf
Show your interest in family history using the PicMonkey photo editor and Spoonflower custom fabric service. This simple infinity scarf uses a yard of custom-printed poly crepe de chine. You can choose different fabrics or custom gift-wrap. You can also select various family photos for a collage.
Supplies
computer with internet access
sewing machine and supploes
Step 1: Log into Spoonflower, choose the Create Fabric option and select Other Design Options at the bottom of the page. Choose to design a Fat Quarter 21×18 inches.
Step 2: PicMonkey opens in your browser with a blank design area. Choose the Text icon, select EcuyerDax and drag the Add Text box to the design area. Type the text Got Roots? Enlarge the words to fill the page horizontally by fragging the corner of the text box to the edge of the design area.
Step 3: Click on the Crop icon and adjust the crop box to enclose your text. Click Apply. Click Save in the top toolbar.
Step 4: The Spoonflower design page opens; select Repeat: Half-Block. Select poly crepe de chine as the fabric. Choose the size and product and place the order. Sew your scarf following the instructions at www.wikihow.com/Make-an-Infinity-Scarf.
Denise May Levenick
---
Acrylic Gel Photo Transfer to Canvas
Looking for a fun project you can do on a rainy day or want to take a break from tackling your brick walls? This photo transfer craft project is an easy method of creating some family history mementos that you can hang on your wall or give as a present to a family member. If you're a fan of gallery walls, old photos, or homemade gifts, then why not try this craft? The best part: You don't need to have any skills with a paintbrush or any kind of crafting tools.
This might be the perfect project to do with school-age kids. Have them help you choose the old (or new!) photos to transfer and scan them into your computer to print out (this won't work with an original photo). While you're choosing the old photos, you can share stories about the people and places in them.
Transfer an old photo to any surface
Acrylic transfers create a kind of "skin" that you can then transfer onto another surface. This makes it great for any project that you want to incorporate your photo into, such as jewelry, a keepsake box, or another memento. If you have a black and white image, you can easily add a tint or color to your photo transfer using acrylic paints – or even paint the surface you transfer onto.
Plus, because you're not working with originals, but rather inexpensive printouts, you can make multiple photo transfers, which means that you can prevent your family members from fighting over the only copy.
Do you want to incorporate that picture of your grandfather in his uniform into a collage about his military service? You can do that simply by layering the photo transfer onto another. You can make the acrylic skin transparent (especially if it has a lot of white space in the picture), which makes acrylic transfers ideal for layering over other backgrounds.
Supplies
an old photo printed out on regular printer paper
canvas or other surface
brush or plastic palette knife
an old board to work on
a tray or nearby sink filled with water
optional: a soft sponge
scissors
Step 1: Prepare your photo and workspace
Once you've chosen the photo you'd like to use, print it out using a regular printer. Inkjet printers are the best option, but I have had no issues using a laser printer either.
A Note: This process is a bit messy, so it's a great idea to use something you don't mind staining with gel. I have an old wooden art board that I use, but an old cookie sheet or tray could also be an option. Avoid paper, though, as that will also stick to the gel and could ruin your image transfer.
Step 2: Cover the image with gel medium
There are different types of acrylic gel mediums you can use. I got two different ones from Michaels, a heavy gel gloss and a soft gel medium (which is why you see two different photos here). Both seemed to work equally well, though the heavy gel seemed like a more solid option. You can also determine if you want a glossy gel or a matte gel as well. If you choose regular gel medium, you might want to add a second coat after the first one dries.
Likewise, the way you spread the gel on the surface depends on what you want it to look like. I used a brush and discovered that the bristles in the brush created lines. I don't mind them, but if you prefer a smooth, even coating, a palette knife or sponge brush may be a better option.
There is no trick to covering the image; just make sure it's all well-coated. Then, let it dry. It will dry clear. Ideally, you'll want to give it 24 hours, but mine was dry enough after about 2 hours to complete the project.
Step 3: Soak the image and remove the paper fibers
Once the image is dry, you'll want to fill a tray or the sink with water and then soak the back of your image (the blank white paper side) thoroughly.
Use either your finger or a soft sponge to start removing the paper fiber from the dried acrylic medium. This is the trickiest part as you learn how much pressure to apply without tearing the medium. You may need to re-soak it a few times as the paper gets dry or particularly stubborn spots. If you get a few tears, don't worry, though – that can be part of the image's charm. Later, you'll be sealing the image and any tears to prevent further damage.
Once you've gotten enough of the paper removed to your satisfaction, let the transfer dry. Again, if it gets cloudy, don't worry! It will dry clear. Once it's dry, your image is ready to place on the surface of your choice.
Step 4: Prepare your canvas
Coat the canvas or surface in a good coat of gel medium.
Then, carefully place the photo transfer onto the canvas and press down, carefully smoothing out any bubbles. While the medium is still wet, you can manipulate the surface a bit to seal any tears or damage.
If you've made the image transfer large enough, you can coat the sides and back with the medium and wrap it around to cover or you can trim it to the size and shape you prefer.
Once you've placed the image, let it dry.
Step 5: Seal it
Once the image is set and dried, you may want to seal the image with one final coat of acrylic gel medium. Find a place to hang your new old photos, add additional paint or details if you wish, or package them up for a relative, then pat yourself on the back. You did it!
Here are the final canvases hanging on my office wall over my computer. I like how the tears and brushstrokes seem to add character to the images, and I still have the originals in pristine condition at home.
Vanessa Wieland
---
Family History Photo Book
Photo books are a great project to take on. No only will you get some of your family photos organized, you can order as many copies of the finished book as you want so you can share them with others. We have an in-depth guide to creating a photo book projects, but here are the basics to get you started.
Choosing Photo Book Images
There are three things to consider when choosing which photos should go in your photo book. Begin by narrowing your photo book idea down to a single theme. The highlights of the life of one person is a popular theme. Others to consider are:
Family Yearbook
Heirloom Reproduction Book
Grandparent and Grandchild Memory Book
Remembering and Celebrating Book
Theme ideas by Denise May Levenick
Once you've selected your theme, zero in on the best pictures by keeping in mind these three things: images that are the most relevant and interesting, those you have a right to print, and those with the best image quality.
Elements to Include
There are five basic elements to add to you photo book to make it really stand out and be memorable. Those are:
photos
genealogical data
stories
documents
maps
Making a Page Plan
A book page plan is similar to the storyboards used by filmmakers. Your page plan provides you with a visual map of your photo book. The standard photo book length is 20 pages, including a right-side-only opening page and a left-side-only closing page. You can start by using sample picture book templates, like this one. This will give you a rough idea of how the photo "story" will look in the book.
Sunny Morton
---
Photo Calendar Theme Ideas
Gifts that are both meaningful and practical are always welcome. You can easily create photo wall calendars with websites like Mixbook and Shutterfly. Here are a few theme ideas to consider:
It's a Party! Calendar
A Year in the Life Calendar
Kitchen Duty Calendar
Denise May Levenick
---
Family Vacation Photo Ideas
Family vacations have so many memorable moments: laughter, tears, sandy toes, silly songs in the car. Keep these memories alive and in mind with the following projects.
Re-staged old photos
Bring the past into the present by snapping a modern-day version of an old photo. Before your trip, choose pictures of places you plan to visit. Make a quick photocopy to use as reference, then leave the original at home for safekeeping. Re-create the photo to the best of your ability once you arrive, using the same people, props and setting. It's fun to see how people, homes and landscaped have changed. You could even pose your kids where their great-great-grandparents once stood, and print both old and new images for your vacation photo album. See more examples of "then and now" photos at The Family Curator.
Greeting Cards
If your vacation is the only time the whole family will be together, snap a photo to use in your annual Christmas card. Don't worry too much about coordinating red-and-green outfits—authentic vacation garb will add charm to the photo. You can find well-designed cards in almost every style and color at online services such as Costco Photo Center or Shutterfly. Consider converting the photo to black and white for a classic photo style.
Photo Postcards
You don't have to buy generic postcards "off the rack" anymore. Use a smartphone app like TouchNote for iOS and Android to convert a photo into a mail-ready postcard. Simply choose a photo, add a message and address, order the print and send. Use postcards to share your vacation with friends and relatives, or send one to yourself as a souvenir.
Vacation photo story
With some foresight, you can make a narrative out of your vacation photos, from beginning to end. Take a picture of the car loaded with suitcases and gear. Then snap photos from inside looking out the window at the endless holiday traffic or long desert views. Include pictures of anything that represents your vacation: sunburned shoulders, the local mile-high ice cream cone and bonfires at the beach. After all, family memories aren't always about the "perfect" trip. Pictures that remind us of the flat tire and the nice cowboy who helped us fix it are often the ones that bring the biggest smiles and the richest memories.
Denise May Levenick
---
Easy Ancestor Photo Ornaments
Are you feeling crafty? It's time for some photo-related holiday crafts.
Reader Margaret Cole used copies of her family photos as Christmas ornaments:
Here's how she did it:
Each photo is 3×4 inches. She printed each image on matte photo paper and to make it sturdy, used photo-safe glue to mount it onto heavy art paper from a 9×12 inch pad cut into 3×4 inch pieces.
There's more! On the back of each ornament is family tree information—birth, death and marriage data.
Margaret printed the information from her Ancestry.com family tree using the "publish" format. She used either the "Person Report-Individual Report" or "Relationship Report-Family Group Sheet." She adjusted the print size to 3×4 inch format and glued it on.
She added a narrow ribbon to frame each photo and make a loop for hanging.
Maureen A. Taylor
---
Photo Magnets or Necklace Pendants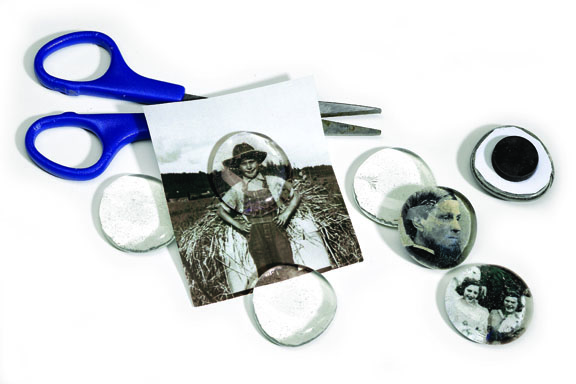 Stick notes to your locker with old family photographs, or build a pictorial family tree on your refrigerator. You can also make necklace pendants using the same process to keep your ancestors close to your heart!
Supplies
Instructions
Step 1: Cut your photo larger than the glass gem.
Step 2: Put a small drop of glue on the gem's flat side and spread it around with your finger.
Step 3: Press the gem onto the photo, centering over the face. Let dry.
Step 4: Use your scissors to trim the photo as close to the gem as possible.
Step 5: Turn over the gem and glue a magnet to the back of the paper. Let dry.
Rachel Christian
Portions of this article appeared in the May/June 2019 issue of Family Tree Magazine.
FamilyTreeMagazine.com is a participant in the Amazon Services LLC Associates Program, an affiliate advertising program designed to provide a means for sites to earn advertising fees by advertising and linking to Amazon.com and affiliated websites.
Related Reads