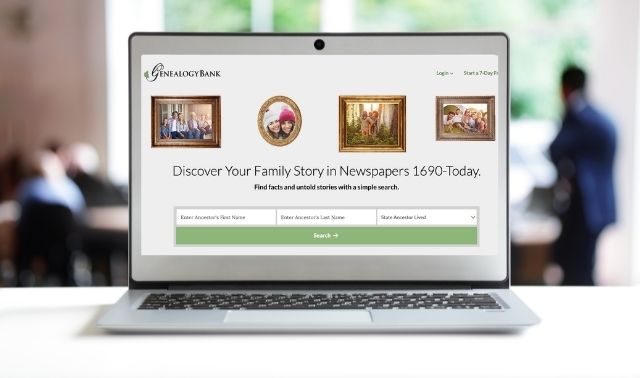 Websites now make it easy to search through millions of old newspaper pages. GenealogyBank has one of the largest collections of digitized US newspapers: more than 13,000 titles from all 50 states, dating from 1690 to the present. They're in two collections:
Newspaper Archives 1690-2016
Obituaries 1690-Present
Another collection, Government Publications 1789-1994, contains the American State Papers and the US Serial Set, both of which you can search for free on the Library of Congress website. (GenealogyBank lists military records and "Revolutionary and Civil War Pension Requests" among its historical documents. Those records are sometimes mentioned in the American State Papers and the US Serial Set, but GenealogyBank doesn't have military service records or pension applications.) The small Historical Books collection is made up mostly of funeral sermons and vintage advertisements. The Social Security Death Index covers primarily deaths from 1962 to 2014; it's free here and on other sites, such as FamilySearch.
1. Start with a name
The search form at the top of GenealogyBank's home page lets you search all its collections at once, or scroll down to select a specific collection. You might search on just a last name if it's unusual, or add a first name if it's common. You'll get a match whenever the terms you enter in the Last Name and First Name boxes appear within two words of each other in an article. This proximity search finds the names whether or not they're separated by a middle name or initial.
Try adding a middle name or initial, and searching with first and middle initials, such as J. H. Pennington. To search on more than one variation of a first or last name at a time, separate them by OR: John OR Jonathan.
The Advanced Search lets you add a range of years, such as 1880 to 1910, or July 1880 to Jan. 1910. Or select Date and enter just a year, such as 1880, or a specific date, such as July 4, 1880.
Search results are organized into collections (if matches come from more than one collection); select a collection title to view matches.
2. Focus your search with keywords
Using the Advanced Search, you can add keywords. In the Include Keywords box, try searching for a person's first and last names as a phrase surrounded by quotation marks: "John Pennington." Also try terms closely associated with your target person, such as an occupation, a place, a college, a company or a spouse's name. John H. Pennington, for example, built railroads in Latin America, and I've found articles about him by searching on his last name plus his company name, "South American Transportation" (in quotation marks so it appears as a phrase in matches), and places where he lived, such as Bogota, Colombia and "South America."
John's scandalous personal life made headlines, too. Searching on his last name with bigamy OR divorce in the Include Keywords box turns up several articles detailing his marriages and an affair with a married woman.
3. Narrow by place and date
Click Newspaper Archives on the home page for a search form (shown below) that lets you check boxes to limit your search to certain states. Click a state name to see which of its cities' papers are on GenealogyBank. On the resulting page, you can further narrow your search by checking one or more boxes by cities' names. (You can't narrow to cities from more than one state.) Click on the city name and you'll jump to a similar setup listing newspapers from that city. Finally, click on a newspaper's name to search just that publication. Here you can also check dates of GenealogyBank's coverage for that title. You also can search a specific paper, or all papers from a state, by clicking Newspaper Titles on the home page.
4. Search ethnic newspapers
GenealogyBank has newspapers published for ethnic communities, including African Americans and Germans, Latinos, Irish and Italians. Results from these papers show up in regular searches, or you can search African-American and Irish papers separately. Click Newspaper Archives on the home page, then look for links to these collections on the left under Other Genealogy Records.
Keep in mind that German, Latino and Italian papers are usually in the native language of the audience. You'll need to enter your search terms in that language, using Google Translate for help if needed. In addition, Optical Character Recognition (OCR) software, used to index the papers by keyword, may misinterpret unfamiliar alphabets. You may need to browse these papers.
Published in 38 states and the District of Columbia from 1827 to 1999, the 276 African-American newspapers on GenealogyBank feature slave ads, slave narratives and slave owner petitions, as well as many personal accounts and obituaries of former slaves. The obituary of James R. Starkey in the San Francisco newspaper The Elevator, of June 17, 1870, says that he was born into slavery in North Carolina, raised enough funds with the help of benevolent New Yorkers to purchase his freedom and settled in New York.
Samuel A. McAlwee, a member of the Tennessee state legislature, tells in the Feb. 2, 1884 New York Globe how he was born a slave in Tennessee in 1858, worked his way through college and law school and became a successful businessman. The Cleveland Gazette of Aug. 24, 1889, reports on the death of "Old Black Joe" in New Jersey. Joseph Queen, age 112 and probably the oldest man in the state, was born in Virginia in 1777, was a runaway slave and went to New Jersey in 1827. You might search these papers for the names of African-Americans and slave owners and add place names to narrow your searches.
Eight Irish-American newspapers published in New York City date from 1810 to the present and report news from Ireland and about Irish Americans across the country. In the 19th century, the papers frequently ran death and bankruptcy notices from Ireland and the names of Irish Americans contributing to Irish relief.
People also placed many "missing friends" ads in an effort to locate lost friends and relatives. One of many Information Wanted notices in the Irish American Weekly of Sept. 20, 1879, says, "Of John Kerby, a native of the parish of Castle-Lyons, county Cork, Ireland, who came to this country six or seven years ago, and when last heard of, two years ago, was in Boston, Mass. Any information of him will be thankfully received by his brother, Patrick Kerby, No. 8 Calias [sic] street, Providence, R.I." To find mention of your relatives in these papers, you might search on a name and, optionally, a place in Ireland or the United States.
Tips for Best Matches
Look for titles likely to cover your ancestors. To see if GenealogyBank has papers from the places and times your family lived, go to the homepage and scroll down to Newspaper Titles, then click on See all states. Each state listing has links to search all that state's Newspaper Archives or recent obituaries, plus a list of newspapers arranged by city. To search a specific newspaper, click on its title.
Search by record category. On the left side of the Newspaper Archives search page is a list of categories, including Historical Obituaries, Birth Records, Marriage Records, Passenger Lists and Legal, Probate & Court. In practice, searching by category usually produces many matches that don't fit, but it's worth a try. A search on the last name Shaubut in the Historical Obituaries category produces 38 matches, including several obituaries, plus an adoption, a court case and many local news items.
Outsmart OCR. The OCR process used to convert newspapers to searchable text often misinterprets words, especially from older newspapers, so your searches may miss some relevant articles. Try other terms (such as your ancestor's address or spouse's name) to get at the same articles.
If a search doesn't turn up a good match and you have an approximate date and place (such as for a marriage notice, obituary or another news item), try browsing. The process is clunky on GenealogyBank. Go to the home page, click on Newspaper Titles, select a state and then a newspaper. Enter a date range like July 1–7 1882, and click Begin Search. You could sort matching articles by Oldest Items so they're in chronological order. Display an article by clicking on its title or the snippet. On the left, click the link to "List all pages in this issue." To browse the whole issue, you might start by clicking on page 1. To go to another page, you have to click on "List all pages in this issue" again and select the page number.
Use Boolean operators
This "search language" saves time by accomplishing at once what might otherwise take separate searches. My great-great-granduncle John H. Pennington traveled frequently to Latin America. Instead of doing individual searches with his name and each country, I can search on his last name plus Honduras OR Guatemala OR "Costa Rica" OR Colombia OR "South America" OR Cuba in the Include Keywords search box, and a date range of 1892 to 1909. The top matches include articles in the Cleveland Leader about an exposition Pennington was organizing in Honduras in 1900 and The Omaha World-Herald about how he was wanted on a charge of bigamy in Colombia in 1895.
Start with the FamilySearch obituaries index
The Obituaries collection has 288 million obituaries and death notices from over 13,000 newspapers. GenealogyBank has partnered with FamilySearch to index them. You can search the obituaries on either site, but the indexes are different. The one on GenealogyBank covers only the deceased individuals, but the FamilySearch index (United States, GenealogyBank Obituaries, 1980-2014, which actually starts in 1977) covers every name mentioned, including surviving relatives. So you could start on FamilySearch and search for anyone whose name might appear in the obituary you want. That'll give you the key facts, but you must search again on GenealogyBank—with the deceased person's name—to view the complete obituary. You'll need a subscription to GenealogyBank as well.
GenealogyBank Quick Links
Versions of this article appeared in the December 2009 and March/April 2015, 2017 and 2019 issues of Family Tree Magazine.
Related Reads