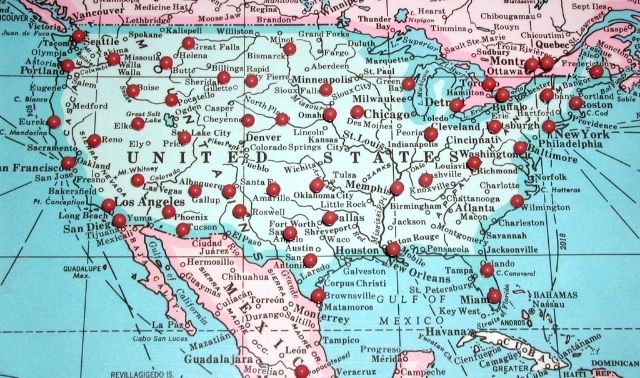 Many genealogists get hooked because of the federal census: It's ubiquitous, it's indexed, it's online. But once you've been researching for a while, you start lamenting the 10-year gap between census records and curse the missing 1890 returns. It sure would be easier to keep tabs on your clan if those enumerators had visited more often—and they might have.
State and territorial census records can help you track down your ancestors between or even before the decennial federal enumerations. The records might provide details on ancestral marriages and deaths predating town or county vital records, and even reveal how many bushels of apples your farming forebears harvested. Start tallying up new family finds with this guide to finding and using state censuses.
Understanding State Censuses
Usually taken between federal head counts, state enumerations can help you establish family relationships and track your ancestors' migrations. Like federal censuses, state enumerations usually record names, ages, state or country of birth and occupations, but some provide additional details. For instance, the New York state censuses of 1855, 1865 and 1875 list the county of birth for New York natives, and the 1865 census of Rhode Island shows the town of birth for natives of that state. And while federal census records are closed to the public for 72 years, some state census records are released sooner: You can already access the 1945 Florida state census.
What's available depends on when and where your ancestors lived. Whereas some states have bountiful enumerations, others—in particular, Connecticut, Idaho, Kentucky, Montana, New Hampshire, Ohio, Pennsylvania, Vermont and West Virginia—have none. The FamilySearch Wiki page on state censuses describes state census records in detail. The authoritative book on the subject, State Census Records by Ann S. Lainhart (Genealogical Publishing Co.), is available at most libraries and on Amazon.
Like federal censuses, state and territorial censuses sometimes include special schedules in addition to the regular population schedules listing inhabitants. For example, the 1885 census of Colorado, Dakota Territory, Florida, Nebraska and New Mexico Territory has agriculture schedules listing farms and farm products, manufacturer schedules enumerating companies, and mortality schedules listing people who died within the previous 12 months. States have also used censuses to count children and predict schools' and teachers' needs, to tally males eligible for military service and to apportion tax revenues.
Many territories are included in federal decennial enumerations—you can find these alongside the regular census. But the federal government also took separate censuses to determine if a territory's population was large enough to petition for statehood. Minnesota Territory conducted such a census in hopes of petitioning for statehood in 1857. Among the residents listed in Cornwall City, you'll find Parker K. Anderson, a 35-year-old blacksmith from North Carolina; Ohioan Silas W. Kent, a 27-year-old wagon maker; and Cantwell Cobb, a 22-year-old shoemaker from Maryland.
If you're tempted to add any of the citizens of Cornwall City to your family tree, don't: They're all fictitious. In fact, the 1857 census records for seven counties in southwestern Minnesota are complete forgeries. Names, ages and occupations were invented for imaginary residents of nonexistent towns. Blame seems to lie mostly with land speculators who could ask a higher price for land in thriving communities than they could for lots in the middle of the wilderness.
Despite—or because of—the massive fraud committed in the 1857 census, Minnesota achieved statehood the next year. Apart from the seven southwestern counties, the rest of the 1857 census of Minnesota Territory is quite reliable, as are most state and territorial census records.
State Census Records Online
Back when I began my family history research, I had to travel to the Minnesota Historical Society and various New York county courthouses to access original, handwritten state census records. They weren't indexed, so I had to go page by page through the bound volumes in search of my ancestors. Thankfully, you don't have to rack up frequent flyer miles to get these records anymore—conveniently, more and more are being posted online. Start your search for state census records on two of the biggest database sites.
This free site has millions of records from around the world, and more are being added all the time; many databases have volunteer-created indexes. Currently, FamilySearch has indexes and images for federal censuses from 1850 to 1930. State census access is spottier.
You can search all the historical records collections for your ancestor's name from the FamilySearch homepage. That's a good way to start, especially if you're searching for an uncommon name, or you don't know where the person lived. Click Advanced Search to expand your search options. You can also search the library catalog for specific states to browse for state census collections.
Sometimes FamilySearch makes digitized records available before they're indexed. You can browse an unindexed database page by page. As I write this, the 1865 New York state census has images, but no index. I know the town where my Robertson ancestors lived at that time, so browsing that census is feasible — but it wouldn't be if I couldn't narrow my browsing to a specific location.
Five Steps to FamilySearch Censuses
Follow this example to search all the databases on FamilySearch, including state census records. To view record images, you'll need to register with the site (it's free) and sign in.
On the FamilySearch homepage, click Advanced Search. Enter first and last names. Select Birth as the Event, enter the place and year of birth, and select a range of years. Click Search.
Matches include US censuses and the 1875 and 1885 Minnesota state censuses. Click the down arrow beside one of the duplicate entries for 1875 to see more details.
The camera symbol indicates you can view an image of the record. Click the person's name to display the full census entry, then on the image thumbnail to view the record in the image viewer.
Use your mouse to move the slider up to enlarge the image. Click on the image and hold down your left mouse button to drag the image around the screen.
To save the record as a file on your computer, press the Save button, then select or create a folder and enter a descriptive name.
In addition to all US federal census records from 1790 to 1930, Ancestry.com has state census records for roughly 20 states from 1792 to 1945. You can purchase a subscription to this massive site's US, or access the census collection at libraries that offer Ancestry Library Edition.
Though you can search most of Ancestry.com's databases—including census records—from the homepage, I've had little luck using the global search to find matches in state censuses. You're better off searching individual state census databases.
For links to states censuses on Ancestry, select Census & Voter Lists from the Search tab and click Links to State Censuses on the right. To find all state censuses on Ancestry (including databases added more recently), select Search All Records from the Search tab. Scroll down and click on a state on the map, and then select a state census collection, if it exists.
Other websites
You'll find state census images, transcriptions and indexes on other sites, too. The North Dakota Institute for Regional Studies offers a free transcription of the 1885 Dakota Territory census for counties in present-day North Dakota.
On Cyndi's List, look in the category Census Records Online: Indexes, Extractions & Transcriptions. You'll find many links to online records, such as state and federal census schedules from 1847 to 1910 in the Washington State Digital Archives.
On Census-Online.com, click on the state to see records by year or county. You can also use this site to search records on Ancestry or Fold3 (subscription required to view results).
Offline Census Records
The Family History Library's most complete collections of state censuses are for Illinois, Iowa, Kansas, Massachusetts, Minnesota, Mississippi, New Jersey, New York, Rhode Island and Wisconsin, but most states are at least partially represented. Check the Family History Library catalog to see what records are available: Do a place-names search for the state name, then look for headings such as Florida—Census—1784 and Wisconsin—Census—1855.
Some state historical societies and archives also make microfilmed census records available for interlibrary loan. See State Census Records to learn about head counts whose only copies reside in state or county archives or courthouses.
How to Use State Census Records
Once you've located the records, how do you use them? Let's look at the 1865 New York state census of Worcester, Otsego County, which I accessed on FamilySearch. Browsing through the pages, I found my ancestor Alexander Robertson recorded as Alexander Robinson. The record gives the county of birth for New York natives. I also saw that Alexander's widowed mother, Elizabeth, was living nearby.
Be sure to browse the special schedules. This census includes marriages and deaths that occurred in Worcester in the prior year—a great find, because New York didn't require death records until 1880 It also includes an agricultural schedule, which reveals Alexander's orchard produced 150 bushels of apples, and he made three barrels of cider, among other details.
As this example shows, you shouldn't count state censuses out—they might be the secret to cracking your brick wall and bringing your ancestors to life.
Tip: Have a few minutes to spare? Join the FamilySearch Indexing project and help make more state censuses available online.
Tip: No state censuses exist for your ancestors' area? Try looking for tax lists, school censuses and sheriff's censuses.
A version of this article appeared in the July 2011 issue of Family Tree Magazine.
Related Reads